Robbery spree knifeman sought for murder in Glasgow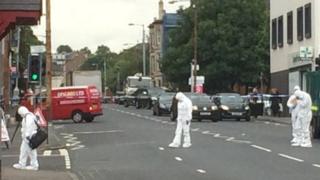 Police believe a knife-wielding robber who targeted two women in Glasgow city centre went on to murder an elderly man in a street stabbing attack.
The victim, named as John Baker, 76, died in hospital after being found in the Bridgeton area just after midnight.
After reviewing CCTV, police are linking the murder to a robbery and an attempted robbery shortly beforehand.
The suspect has been described as a "dangerous individual" who "doesn't seem to care who he attacks".
Mr Baker lived in nearby Tobago Street. Police Scotland said his relatives had been told of his death.
Detectives have described the man they are looking for as white, in his mid 20s to 30s, of medium build, 5ft 5in to 5ft 10in tall, clean shaven, with a scar on his face.
Attack 'escalated'
He was wearing dark trainers that had a distinctive bright white chunky sole, a light baseball cap, grey hooded top and dark coloured jeans.
Det Supt Duncan Sloan said: "We believe that the initial motive of this attack was robbery, however, for whatever reason, it escalated into the elderly man being stabbed.
"Following inquiries, we now know that the same man is responsible for the murder, a robbery and an attempted robbery involving two women in Glasgow City Centre late last night, just before the murder."
The police officer said the first incident took place outside Central Station in Glasgow at about 22:35, where a 25-year-old woman was robbed of her handbag by a man who was brandishing a knife.
She was not injured during the incident.
Det Supt Sloan said: "On this occasion the suspect was chased by two men down Hope Street towards the 'Heilanman's Umbrella' and east on to Argyle Street but he managed to get away down into Jamaica Street.
"We have already spoken to one of the men but I am still keen to speak to the second man who tried to catch the suspect as he may have information that will help our inquiry."
The second incident was an attempted robbery at about 23:55 in the Trongate, near to Albion Street.
The suspect threatened a 53-year-old woman standing alone at the bus stop, with a knife demanding her handbag.
She pushed him away and he ran off east along the Trongate towards the Barras.
Police believe the suspect robbed and stabbed Mr Baker who was walking along Stevenson Street, near to Abercromby Street, in the Bridgeton area, at about 00:25.
He collapsed in the street where three members of the public came to his aid but he died a short time later in Glasgow Royal Infirmary
Det Supt Sloan said: "This man doesn't seem to care who he attacks. He is a dangerous individual who is in essence a coward preying on an elderly man and women and it is imperative that we catch him as soon as possible."