Killers win human rights court case but damages claim rejected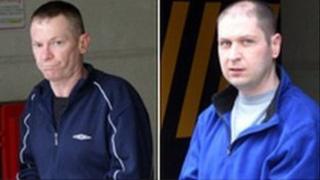 Judges in Europe have ruled that Scottish prosecutors took too long to bring two killers to justice.
Charles O'Neill and William Lauchlan were first investigated over Allison McGarrigle's murder in 2005 but the legal process did not end until 2014.
Judges in Strasbourg ruled that the nine-year proceedings breached the pair's right to a fair hearing.
They refused to award them damages but did order the UK government to pay £3,700 towards O'Neill's legal costs.
The seven-member European Court of Human Rights said that although there had been no "outright dilatoriness" in the prosecution of the pair, the delay was "excessive".
The paedophiles had claimed damages of £350,000 but the judges ruled that they would have to be satisfied with a ruling that their rights were breached.
O'Neill, 54, and Lauchlan, 40, are serving life in Scottish prisons for killing Ms McGarrigle, who was 39 when she went missing in 1997.
Body never found
At their trial, the High Court in Glasgow heard they murdered her to stop her reporting them over the abuse of a young boy.
After the killing, it is believed they put her body in a bin and dumped it at sea. Her body has never been found.
O'Neill and Lauchlan were first investigated over the murder in 2005 and charged in 2008 after new evidence came to light.
In June 2010, 13 years after Ms McGarrigle went missing, they were convicted of her murder.
After the trial, it was revealed that both of them had been convicted of sex attacks on children in 1998 and had served four years in prison.
It was also revealed that in May 2010, one month before the murder trial began, they had been convicted of three other sex attacks on boys.
Both were jailed for life over Ms McGarrigle's killing, with O'Neill being ordered to serve at least 30 years while Lauchlan received a minimum of 26 years.
The pair appealed against their convictions and sentences, with the final appeal being dismissed in 2014.