First koala ever to be born in the UK dies at Edinburgh Zoo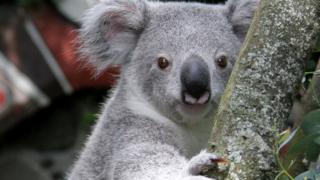 The first Koala ever to be born in the UK has died at Edinburgh Zoo.
The Royal Zoological Society of Scotland (RZSS) said Yooranah, a three-year-old male, died on the evening of Tuesday 21 June.
Keepers at the zoo said he had suffered a "prolonged period of illness" and would be "greatly missed".
Darren McGarry, head of living collections at Edinburgh Zoo, said "nothing more" could have been done for the koala.
Named from the indigenous Australian word meaning "loving", Yooranah was born at Edinburgh Zoo in May 2013.
He was the first koala joey to be born in the UK. His mother, Alinga, and father, Goonaroo, remain at the zoo.
In the wild the average lifespan for a koala is about 10 years.
Mr McGarry said: "We're extremely sad to report that Yooranah, our three-year-old male koala, died yesterday evening following a period of illness.
"We would like to reassure all the people that had taken Yooranah to their hearts over the past three years that nothing more could have been done for this much loved koala.
"He received the very best medical care and animal husbandry. Yooranah will be greatly missed by all."