Three Scottish buildings listed among best in the UK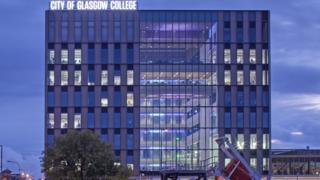 Three new Scottish buildings are in the running to be named the UK's building of the year by the Royal Institute of British Architects (RIBA).
The City of Glasgow College Riverside Campus and the Saunders Centre at The Glasgow Academy are among 46 buildings from across the UK recognised.
Murphy House, a residential house in Edinburgh's Hart Street, was also listed in the RIBA National Awards.
RIBA said the winners showcased the best of contemporary architecture.
RIBA president Jane Duncan said: "They show that budget, location or many other challenges are no constraints to the production of superb quality architecture as long as you have the commitment of an imaginative and capable architect working with a great client."
City of Glasgow College's new Riverside Campus, designed by Michael Laird Architects and Reiach & Hall, opened last year as part of a £228m project to open a "twin super campus" in the city.
The Saunders Centre, a science and technology development at The Glasgow Academy, was designed by Page\Park Architects.
The £15m project was part-funded by a £750,000 donation bequeathed by Lt Col Francis Saunders who was Scotland's oldest man when he died in 2013.
Richard Murphy Architects' Murphy House has also been given a RIBA National Award for the development in Edinburgh's New Town.
The shortlist for RIBA's coveted Stirling Prize for the UK's best building of the year will be drawn from the list of 46 RIBA National Award winners announced today.
Ms Duncan said: "The RIBA National Awards are a great indicator of UK design, economic and construction trends.
"One stand-out trend from this year's crop of winners is the huge scale of investment and ambition shown by many of the UK's universities and colleges.
"As universities and colleges in the UK are competing for students from here and overseas, it is encouraging to see so much emphasis placed on the power of architecture to help institutions to attract students and stand out from the mediocre.
"I am delighted to see that four fantastic school buildings have made the grade too.
"Too many of our school and education buildings are in disrepair; with limited funding available to provide our children and their teachers with great learning spaces, every penny spent on schools must deliver maximum value for money.
"These 46 buildings are what the best architecture looks like today."