'Golden thread' linking cadets to carnage of the Somme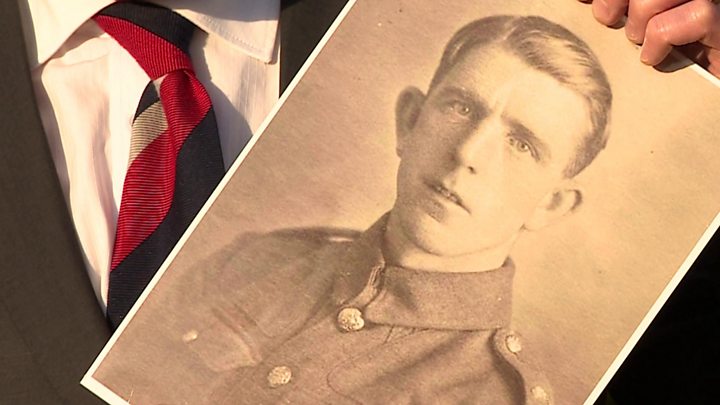 In the British Army, the concept of the "golden thread" is held dear.
It's a term used to denote the continuing, unbroken tradition of a regiment - preserving its history and culture.
Such a thread links Army cadets in north-east England to the Scottish unit which suffered Britain's worst level of military casualties.
One of those wounded in the 1916 Somme offensive was my grandfather, Jack Rough from Sunderland.
He lost a lung fighting with the Tyneside Scottish (TS) battalions which went over the top on 1 July.
TS is the only one of the "Pals" battalions raised in 1914 still to have an identity in today's Army.
Pals battalions were raised at the start of World War One in local communities who were promised, as an incentive to volunteer, the men could serve alongside friends, neighbours and colleagues.
But their famous names, such as the Accrington Pals from Lancashire and McRae's Battalion from Edinburgh, have all disappeared, leaving only TS which retains its name as a Royal Artillery Reserve battery and two cadet detachments, based in Newcastle.
The teenagers wear normal khaki uniforms with a Balmoral bonnet with red hackle and the TS badge of a Saltire and a castle flanked by thistles.
They have been learning about their illustrious predecessors in TS100 - a World War One centenary project.
At 07:28 on 1 July 1916 the whistles sounded and the attack on German positions began, with the four battalions of TS soldiers going over the top.
The offensive, which involved 13 British divisions, was a disaster, with an estimated 60,000 casualties on the first day.
TS suffered more than any other brigade, and by 5 July could only parade 700 men out of a normal strength of more than 4,000.
'Almost annihilated'
Brigadier-General Trevor Ternan, who commanded TS, wrote later: "News was eventually collected which showed that while portions of the 2nd and 3rd Battalions had succeeded after enormous losses in capturing a short sector of the Hun trenches, there was only a remnant remaining of the 1st and 4th Battalions, who had been almost annihilated while crossing the wide expanse of No-Man's-Land on our left."
He described the slaughter of his men who had fought heroically: "Officers and men had been literally mowed down, but in rapidly diminishing numbers they had resolutely pushed on to meet their deaths close to the enemy's wire. No-Man's-Land was reported to be heaped with dead."
Cadet Bombadier Joel Mark said it was important to learn about those who had worn the uniform in the past, to maintain a connection with soldiers who had gone before.
"You can pass on information to younger generations as obviously British military history isn't covered in the syllabus as such - Battle of the Somme etc," he said.
"And by learning all this information, soldiers' lives live on."
Cadet Francesca Dodds said learning about the experiences of the men who had fought in the Somme had been eye-opening.
"They would have to go over the top. They would have to face all those bullets coming towards them. It was a life and death situation.
"Whereas we complain about being told to wake up at six o'clock in the morning. They were being told to stand to at two o'clock, three o'clock every single night and getting up and going over and fighting."
TS were designated as Lowland units, and so did not wear the kilt. But each battalion had its own tartan and was led into battle by its piper.
Along with Scots battalions raised in Liverpool, London and South Africa, TS is commemorated at the Scottish National War Museum at Edinburgh Castle.
Dr Stuart Allan, principal curator of Scottish late modern collections at National Museums Scotland, said TS was a special unit which had recruited faster than any other in World War One.
"It was phenomenal. Four battalions were raised in a matter of not far short of a month. So that's 5,000 men, and they ended up with a full brigade."
He added: "The thing with the Scottish image is that all these individual units have their own character.
"But they all belong to this wider family, and it has this international recognition factor - the idea of being a Scottish soldier and having that heritage behind you is something that still means something."
It is perhaps inevitable the name of the Tyneside Scots would live on.
Their motto is "Harder than Hammers," because while you could break a hammer, you could never break the spirit of the Tyneside Scots.