Warning of nurse cuts 'to balance books'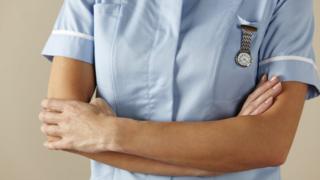 Scotland's health service risks cutting nurses "simply to balance the books", the Royal College of Nursing has warned.
The nurses' union's Scotland director Theresa Fyffe said rising demand for NHS services was being made worse by "ongoing efficiency savings".
The warning came as a new survey found almost nine out of 10 (88.8%) nurses thought their workload had worsened.
The Scottish government said NHS staff levels were at a record high.
Health Secretary Shona Robison said there were challenges to be addressed but welcomed the fact that NHS staff remained committed to their roles.
The Royal College of Nursing (RCN) questioned 10,554 nurses from across the UK, including 972 from Scotland.
Almost nine out 10 Scottish respondents said they had felt the impact of a rising number of older people requiring care and 62.5% said there was a struggle for hospital beds.
More than three-quarters (78.6%) of nurses surveyed said that finances had got worse.
'Urgent transformation'
Ms Fyffe said: "This survey clearly shows how much pressure nursing staff are experiencing on a daily basis because of rising demand, made worse by the financial position of many of our health boards.
"It's just not realistic to think that health boards can deliver the same services to more and more people, and achieve the ongoing efficiency savings demanded by government.
"The RCN is really concerned that, without urgent transformation to how health services are delivered in Scotland, there's a risk of a return to the bad old days of 'boom and bust', with health boards targeting the nursing workforce for cuts simply to balance the books."
Health secretary Ms Robison said: "Under this government, NHS staff numbers have risen to a record high, with more consultants, nurses and midwives delivering care for the people of Scotland.
"We know there are challenges to be addressed, but it is welcome that in the last NHS employee survey staff remained committed to their roles - with almost nine out of ten willing to go the 'extra mile' at work.
"We will continue to work in partnership with professional bodies including the RCN to discuss how we can further improve the experience of staff working in Scotland's NHS."
Scottish Labour health spokesman Anas Sarwar described the survey as a "stark warning".
He added: "The message coming from people who have dedicated their careers to caring for others is coming through loud and clear - our NHS needs more support."