Nicola Sturgeon: 'Work to do' on university access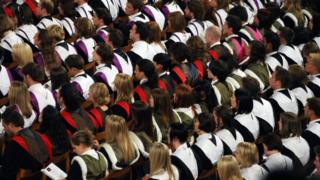 The first minister has acknowledged there is "work to do" after statistics showed a fall in the number of 18-year-olds from Scotland's poorest areas going to university.
But Nicola Sturgeon insisted it was "quite simply wrong" to suggest progress was not being made.
She was speaking at first minister's questions after the figures were raised by Labour leader Kezia Dugdale.
The data was released by university admissions body Ucas.
It showed that 1,215 applicants from the most deprived 20% of areas were awarded a university place last year, down from 1,305 the previous year.
Most affluent
The figure was also lower than the 1,235 successful applicants from that group in 2013 - but higher than the figures for the three years before that.
There was also an increase in 18-year-olds from Scotland's most affluent communities going to university, with the figure rising from 4,605 in 2014 to 4,685 last year.
The Scottish government has placed a major focus on cutting the attainment gap between rich and poor, and increasing the number of Scots from the worst-off communities who make it to university.
Ms Sturgeon told the Holyrood chamber that Ms Dugdale was right to ask her about the statistics, which the first minister said "show that we are absolutely right to prioritise fair access to university".
She added: "Looking at 18-year-olds exclusively, the numbers from our most deprived areas dropped slightly from 2014 to 2015 but nevertheless are up considerably on 2010.
"The more fundamental point is that not everyone who goes to university goes at 18, so when you look at the figures for people of all ages, the numbers from the most deprived areas both applying to and being accepted to university is up in 2015 compared to 2014, in both cases by about 10%.
"So yes, we have got work to do, I have been very clear about that. That is why implementing the Widening Access report is so important.
"But it is simply wrong to say that progress isn't being made."
Ms Dugdale said Ms Sturgeon had used "three different excuses" rather than explaining why her government "had not done enough".
'Grants and bursaries'
She added: "What these figures very clearly show is that there has been a drop in the number of people from poorer backgrounds applying to university.
"There has been an even bigger drop in the number of poorer people being accepted when they do apply. This is what happens when you cut grants and bursaries by a third.
"This is a government that recently tried to scrap a scheme that secured university places for the poorest students, and students are worried that the first minister will try that again."
Ahead of the debate, the Scottish Conservatives' education spokeswoman Liz Smith said the "damning" Ucas report confirmed that the SNP "just isn't doing enough to close the attainment gap or increase opportunity among Scotland's least-privileged".
Ross Greer of the Scottish Greens added: "If we want to encourage more students from less well-off backgrounds we need to tackle financial and cultural barriers, and do more to reach out to those students to support their aspirations. No one should be put off applying for university because of their family's income."
And Tavish Scott of the Liberal Democrats said: "The SNP have had nine years to ensure that young people from a poorer background are on a level playing field with their contemporaries.
"But while they have been busy building monuments to their education policy, students have been let down badly."
A spokeswoman for Universities Scotland described the figures as being a "very useful but highly-detailed and complex data set that needs further examination".
She said: "The one factor that underpins all of the data for Scotland is that whoever you are and whatever your background, it is a lot more competitive to get into university in Scotland than it is in other parts of the UK, and that comes down to the limited availability of places here in Scotland."