Eight-year-old girls 'more likely to read' than boys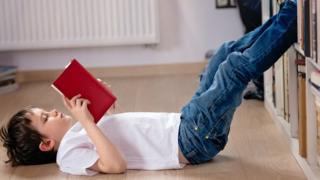 Girls in Scotland are more likely to enjoy reading at primary school age than boys, a new report has shown.
Almost three-quarters (74%) of eight-year-old girls said they liked reading "a lot", compared with three in five boys of the same age (58%).
Two-thirds (66%) of all eight-year-olds taking part in the study said they liked reading "a lot" and a quarter (24%) said they like it "a bit".
One in 10 said they did not like reading.
Researchers found that while children from disadvantaged backgrounds were less likely than their better-off peers to be read to frequently when younger, both groups were equally likely to enjoy reading when they were aged eight.
Digital age
The study, carried out by ScotCen Social Research, discovered that being read to frequently at age two or five was not linked to a greater likelihood of enjoying reading as an eight-year-old.
The study also found no significant differences in enjoyment of reading according to the child's ethnicity, parental level of education, or the mother's age at the time of the child's birth.
The report is the latest from the Growing Up in Scotland study which has tracked the lives of thousands of children across the country from birth throughout their childhood since 2004.
Paul Bradshaw, head of ScotCen, said: "These findings are reassuring - in our increasingly digital age the majority of children enjoy reading to some extent, regardless of their background.
"As well as being an essential life skill, research has shown that reading regularly is linked to improving children's vocabulary and cognitive development.
"However, the discrepancy between boys' and girls' enjoyment of reading shows that more needs to be done to engage boys in reading."