'Work ongoing' on child protection plans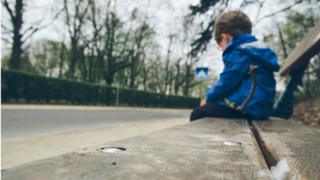 Scotland's education secretary has said the government is working as quickly as possible to implement the recommendations of two reports into the country's child protection system.
The Brock report was published in 2014, and the Daniel report in 2012.
Their authors have criticised a lack of progress since the reports.
It follows the murder of the Fife toddler Liam Fee, who suffered months of abuse before his death at the hands of his mother and her partner.
Children in Scotland chief executive Jackie Brock was given the task by the Scottish government of examining whether the country's approach to protecting children was as robust as possible.
She made 12 recommendations in her report when it was released in November 2014, which the government said would be accepted in full.
But Ms Brock has been critical in the past about what she has described as a "lack of progress" towards implementing the recommendations.
Separately, Prof Brigid Daniel, the author of a report into child neglect in Scotland published in 2012, has also said that not all of her recommendations have been implemented.
Scotland's new education secretary, John Swinney, told the BBC's Good Morning Scotland programme that the government was "going through a process of implementing" the Daniel report, and "working its way through" the recommendations of the Brock report.
He said the conclusions of the current review of child protection arrangements would "become clear towards the end of this year".
Mr Swinney added: "This is part of what I would describe as the perpetual challenge that we put in place to our child protection arrangements to make sure that they are effective, and that they can meet the needs of vulnerable children in Scotland.
"The government's improvement programme, which was set out earlier this year, is part of that process of responding to these recommendations, and making sure we advance these recommendations as swiftly as we possibly can.
"That is what the government is committed to doing, that is what the discussions we will be having tomorrow with child protection professionals and leaders will all be about."
Speaking since the verdict in the Liam Fee case was delivered on Tuesday, social workers have said that their caseloads have grown.
Some have said they are spending 80% of their time on paperwork and only 20% dealing face-to-face with the families that need their help.
There are also concerns about the government's controversial named person scheme, which is due to be rolled out across Scotland later this year after pilots in Fife and the Highlands.
Mr Swinney said the number of social workers in children's services had increased in Scotland by 7.5% between 2012 and 2014.
'Degree of need'
He added: "What we have to do is to take a preventative approach. We have to look at the needs of all young people in society to make sure that when problems emerge we address those problems at the very earliest opportunity.
"That is what the named person policy is all about - it is about signalling those families and individuals who may be in some degree of need.
"Fife Council has indicated that Liam Fee did not have a named person in terms of the legislation that parliament has put in place.
"A number of local authorities have been making progress towards some form of named person scheme, but the type of capacity and capability of the named person as envisioned in our legislation - which crucially has the ability to ensure that all public authorities are working together on a child's behalf - was not in place."
Responding to Mr Swinney, Ms Brock said the government was introducing a "number of huge improvements", including last year's inquiry into historical abuse.
But she said there had not yet been "full blown implementation" of the recommendations she made.
And she said she could not understand why concerns about Liam's welfare had not been listened to after they were raised by his childminder and staff at a nursery he attended.
She also highlighted the issue of resources, saying: "There have been significant cuts to local government and social workers, we're seeing a decline in the number of children and family social workers.
"We're seeing a perfect storm really, with a great system and a great set of principles in our legislation which I believe will make a fundamental difference to the way in which we protect children.
"But we are also in the context of cuts and I think we have to look at the way in which local authorities and health boards are resourcing children's services."