'Mum has been in prison about 30 times'
Sarah (not her real name) is 17 years old. Her mother has been in and out of prison since she was a child.
"Mum has been in prison a good 30 times. I first learned she was in prison when I was about 7.
"I'd been living with my gran since I was three weeks old and it was never hidden from us.
"I was at primary school when I began visiting her so it was really quite scary. All the security things you had to do before you even got into see her were scary, and would put you off.
"She's a heroin addict, and when she gets out of prison she stays clean for maybe a couple of days.
"When I was young, I felt let down by her because obviously she was never there for me or my younger sister. She chose drugs over her own kids. It just didn't make any sense to me. I felt hurt by it.
"I never told her how I felt when I was visiting her in prison - I just thought it would make her time worse.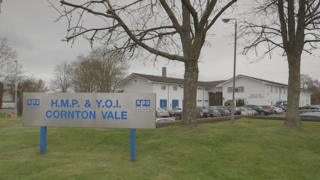 "You can't really talk because everybody's so close together. You can hear everybody else's conversations and because of that you're not actually concentrating on your own.
"Other pupils at school started asking questions because it was always my gran who was there, never my mum or dad.
"I always felt like their parents were looking down on me, as if I was the same as my mum. I felt they were always talking about me and the situation. And that made me feel worse. So I just kind of backed off from friendships after a while. I'm kind of closed off. And I don't tend to trust a lot of people now because she let me down.
"It's kind of ruined my grandparents' lives. They don't smoke, don't drink. My youngest aunt died from drugs. My grandparents' lives have always been about helping get my mum and my aunt back on track, and they keep trying for them.
"I think if my mum had help from the very beginning, things might have been different. My gran went with her to doctors but they weren't giving her anyone who was properly pushing her to do something.
"When I was growing up, I never knew anyone who was in the same situation as me. But my sister's got me. I know what she's been through and what she's going through. So I'll be there for her. And that's all that matters."
Women Prisoners: Throw Away the Key? will be broadcast on BBC One Scotland on Wednesday 15 June, at 21;30, and for a month afterwards on the BBC iPlayer.