Hospital inspectors 'forced to intervene'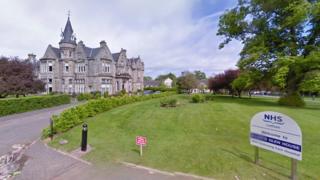 Elderly care wards in Edinburgh were so short-staffed that inspectors had to intervene to help patients whose buzzers were not being answered.
The inspectors were visiting four NHS hospitals earlier this year to carry out a review of the quality of care.
They were called in after a campaign by the family of an elderly man who died in Ellens Glen House hospital in 2013.
NHS Lothian said it recognised the need for improvement and had invested £1.3m in nursing staff.
The revelation is in a report by Healthcare Improvement Scotland which has just been released.
Inspectors were forced to intervene on two occasions because vulnerable elderly patients had pressed their buzzer but nobody had come for more than five minutes.
Inspectors said three wards were noisy with buzzers ringing frequently but going unanswered for long periods.
They also found a catalogue of problems, including ad-hoc pain management and missing or disorganised patient notes.
Soiled clothes
Some patients had been left in the same position for almost an entire day, which would lead to pressure sores.
Healthcare Improvement Scotland concluded that care in Astley Ainslie Hospital, Ferryfield House, Findlay House and Ellens Glen was affected by "pressures on the system" due to staff vacancies, sickness absence and too many temporary staff.
The family of 82-year-old Bill Oliver have campaigned for a review of elderly care following his death in 2014.
They said he was not given pain relief and was left in soiled clothes, with drinks he was too weak to lift. They said nurses literally ran between patients on an understaffed ward where buzzers constantly rang out.
Commenting on the report, Mr Oliver's daughter Shona Oliver said: "There are particularly painful similarities to my father's experience echoed in this report.
"Many buzzers were out of reach of patients. Food and fluid balance charts were not completed, some with gaps of days just like my dad's.
"There is nothing in this report that was not already known to NHS Lothian. Documentation going back to 2009 from the community health partnership clearly states that there were problems.
Staff sickness
"They have known about it and have done nothing, as they say there is no budget to make the required changes."
NHS Lothian is facing a £20m overspend this year.
In Findlay House, the staff sickness rate was 23%. However, inspectors noted that this had since improved.
The review also said that the majority of patients and their families were happy with their care, leadership was generally good and staff were willing to learn from mistakes.
Last year, the Royal College of Nursing said inspections had not driven up standards in care for the elderly and the same problems were being identified again and again.
A campaign has been launched to force the Scottish government to introduce an independent regulator of the NHS, with the power to bring prosecutions.
Professor Alex McMahon, director of nursing for NHS Lothian, said the review highlighted many areas of good practice.
"However, we do recognise that there are areas where we need to improve," he said. "A robust action plan was developed and many of these points have already been addressed as a matter of urgency.
"Over the last year, NHS Lothian has invested £1.3m in the service to maintain the correct balance of levels and skill mix of staff and ensure they are appropriate to the needs of patients."
Scottish Conservative spokesman for public health Miles Briggs said: "It is shocking to learn that staff shortages were so severe that inspectors had to intervene to help patients whose buzzers were not being answered.
"I am also very disturbed to read reports of unsatisfactory pain management and missing patient notes- this is simply unacceptable."
He said: "This report raises very serious concerns about the effectiveness of NHS Lothian's workforce planning given that there have been similar examples of staffing shortages before and I will be raising a number of issues with the Scottish government through written Parliamentary questions which I will table today."