Scotland's First Minister Nicola Sturgeon appears in alien invasion drama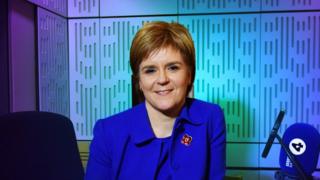 Scotland's First Minister Nicola Sturgeon is to play herself in a radio drama which follows survivors of an alien invasion in Scotland.
Author Val McDermid has written an adaptation of John Wyndham's 1953 novel The Kraken Wakes for BBC Radio 4.
In McDermid's version survivors take refuge in the Highlands and Ms Sturgeon broadcasts instructions to them.
The author, from Fife, met the first minister at last year's Edinburgh International Book Festival.
The Kraken Wakes, which is about an alien attack that culminates in the polar ice caps melting and most of Britain becoming submerged, stars Paul Higgins and Tamsin Greig.
McDermid said: "In the book, the protagonists take themselves off to Cornwall, but if the water rose that high, there isn't going to be a Cornwall.
"The part of the UK that's going to have most of it left is Scotland."
So McDermid moved the action to Scotland and gives Ms Sturgeon a part calmly broadcasting instructions to the survivors of what is left of the UK.
Ms Sturgeon recorded her role in the studio after the other actors.
Episode one will be broadcast on BBC Radio 4 on Saturday 28 May at 14:30.