Baby death rates 'higher than average' at three Scottish boards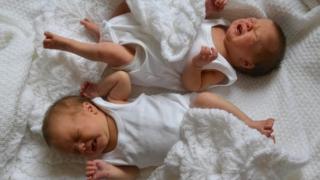 Three health boards in Scotland have higher than average death rates for newborn babies, according to a UK-wide audit.
NHS Grampian, NHS Ayrshire and Arran and NHS Borders had death rates up to 10% higher than average rates.
However, rates in Greater Glasgow and Tayside were more than 10% under.
Overall, Scotland performed better than other parts of the UK. The study took into account differences in poverty, ethnicity and the age of the mother.
'Identify improvements'
Twins or triplets, ethnicity, poverty and older mothers were deemed risk factors.
The report said: "It is only by trusts and health boards asking such questions of their own services and critically examining the care given to each woman and her baby where a death has occurred, that we shall be able to identify the improvements needed to avoid such deaths in the future."
"The MBRRACE-UK (Mothers and Babies Reducing Risk through Audits and Confidential Enquiries) team have highlighted those trusts and health boards which clearly need to review their care provision with some urgency."
Perinatal deaths are deaths before, during, or shortly after birth.
Cause unknown
NHS Grampian said it had implemented a number of changes to reduce the number of stillbirths in the area and was refreshing the guidance for staff on reduced foetal movement.
A spokesman added: "Each and every perinatal death is fully and sensitively investigated for any learning and the findings are shared with parents.
"It is important to note - as the report does - that the cause of almost half of stillbirths is unknown.
"It should be remembered that babies in the neonatal unit can be many weeks premature and as such very vulnerable. Sadly not all of them will survive, despite the excellent care they receive."
Nicky Berry, head of midwifery at NHS Borders, said: "The loss of a baby is devastating and we take this aspect of care extremely seriously.
"We therefore scrutinise all perinatal deaths closely, both with the national MBRRACE-UK team, and locally, with senior clinicians to continuously improve our perinatal services for the people of the Borders."