Specialist in food-related illnesses to advise on food standards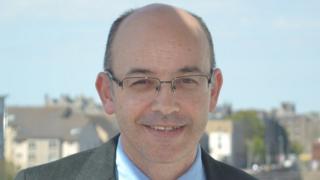 A specialist in food-related illnesses has been appointed as the first chief scientific adviser to Scotland's food body.
Professor Norval Strachan, chairman in physics at the University of Aberdeen, took up the post at Food Standards Scotland (FSS) at the end of April.
Mr Strachan specialises in food-borne illnesses such as E. coli O157, campylobacter, salmonella and listeria.
He will provide expert advice and will commission and evaluate research.
He said: "I'm delighted to join FSS in this role and look forward to leading on the evidence-based scientific approach, which allows FSS and consumers to make informed decisions in relation to food."
Key priority
FSS chief executive Geoff Ogle said: "One of our key priorities is protecting consumers in Scotland from the risks of food-borne illness and I am confident that Norval's expertise, knowledge and experience will help to ensure the safety of Scotland's food, and deliver wider scientific input in our key priority areas such as diet and nutrition.
"It's a privilege to have someone of Norval's calibre on board to support us in delivering a food and drink environment in Scotland that benefits, protects and is trusted by consumers."
Professor Strachan has published more than 100 peer-reviewed papers and has served as a grants review panel member for FSS.