Scotland records both hottest and coldest day in UK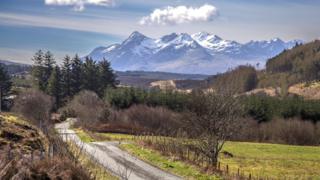 Scotland recorded both the hottest and coldest temperatures in the UK on Tuesday.
Skye was the warmest part of the UK, with the Lusa weather station recording highs of 26C in the afternoon.
In contrast, Shetland recorded the coldest temperatures in the UK with highs of 9C.
Scottish temperatures have already been well above the 12-13C average for this time of year with highs of 22-23C.
On Tuesday, the temperatures in Skye started high reaching double figures by 06:00.
The sunshine continued throughout the day to reach its warmest between 15:00 and 16:00.
But Shetland didn't start the day with sunshine and high, brisk, north-easterly winds meant it remained chilly but dry.
The most northerly weather station, Baltasound, recorded the coldest temperatures in the UK in the afternoon.