Prince Charles attends Kirking of Scottish Parliament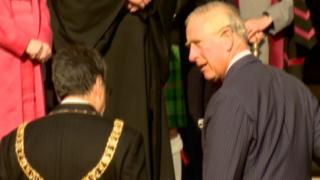 Prince Charles has attended an interfaith service for the Kirking of the Scottish Parliament in Edinburgh.
The Duke of Rothesay was joined by newly elected MSPs, diplomats and church leaders at St Giles' Cathedral.
The service traditionally takes place on the evening before the first sitting of a new parliamentary term. This year's ceremony included a humanist blessing for the first time.
The Prince met Holyrood's party leaders after the service.
The Reverend Calum MacLeod, minister of St Giles' Cathedral led the evening service, and the Right Reverend Dr Angus Morrison, moderator of the General Assembly of the Church of Scotland, delivered a sermon.
Dr Morrison congratulated those who had just been elected, but added: "I might want to remind the MSPs that the real boss is the people who elected them."
He said: "I appeal to all of you whom the citizens of this country have elected to serve as members of the Scottish Parliament to remember there will be times when party loyalty can be set aside in exchange for working together harmoniously and constructively for the good of Scotland and its people."
Guests were greeted by music from a quartet of the National Youth Jazz Orchestra of Scotland, while musicians from the Royal Conservatoire of Scotland performed during the service.
Humanist Society Scotland chief executive Gordon MacRae said he was "delighted" that there would be representation for non-religious people at the service for the first time.
He said: "As Scottish society changes it is only fair and proper that representatives from the large group in society that seek to lead ethical and fulfilling lives without religion are included in the country's important ceremonies."
The new session of the Scottish Parliament will formally begin on Thursday, when MSPs will be sworn in by Ms Marwick in the Holyrood chamber.
An election will then be held to choose a new presiding officer, with the formation of a government and the election of a first minister the following week.