Hiroshima survivor warns against Trident renewal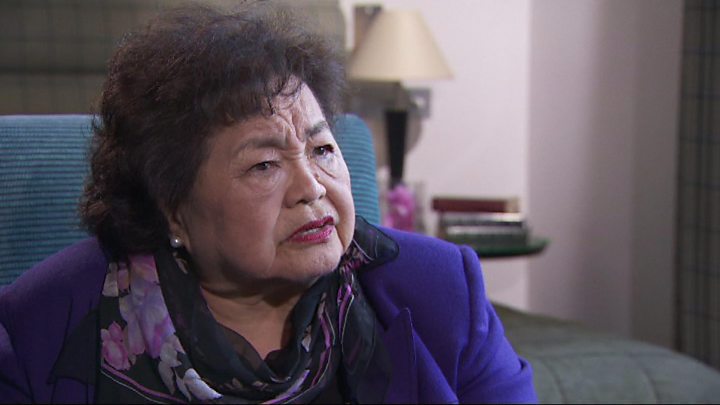 An 84-year-old Hiroshima bombing survivor has travelled to Edinburgh to warn against the renewal of Trident.
Setsuko Thurlow was 13 at the time of the bombing on 6 August 1945.
The peace campaigner was a little over a mile away from the centre of the Hiroshima bombing at 08:15.
She recalled a "bluish white flash" which threw her into the air before plunging her into total darkness and silence. Most school children in the city were killed instantly.
Setsuko Nakamura, as she was known then, later left Japan, married a Canadian and began travelling the world calling for nuclear disarmament.
'Pushing our luck'
During her time in Edinburgh, Ms Thurlow met with politicians and argued that the UK should learn the lessons of history and abandon nuclear weapons.
In an interview with BBC Scotland's 2016 programme, she said: "I emphasise the human perspective of these nuclear weapons.
"We have given so much attention to the doctrine of 'deterrents' and how useful those nuclear weapons are, therefore we have to spend more money to have more weapons - that's nonsense.
"It's about how those terrible things kill human beings.
"We just can't think of it in terms of national security and international security, we have to think more of humanity."
Asked if she thought nuclear weapons had played a role in "keeping the peace" in both Europe and Japan since World War Two, she said: "Nobody can say it has worked. We have been lucky the past 71 years but we can't keep pushing our luck.
"As long as those weapons exist and we keep competing then we are leading ourselves to a catastrophe."