Holyrood 2016: Nicola Sturgeon - an SNP leader taking nothing for granted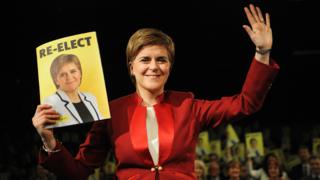 You would think that Nicola Sturgeon would be feeling pretty good today.
Every poll and pundit is convinced that at the Holyrood election on Thursday she will be re-elected First Minister of Scotland.
As a highly superstitious person she insists she is taking nothing for granted and frustrating her aides by refusing to plan a victory press conference or party.
But it's hard to imagine she is really worrying about having to move out of Bute House - the First Minister's elegant official residence in Edinburgh.
So why are senior SNP insiders, who've all seen the polls giving them a 30 point lead, now briefing the press that they fear they might not win an overall majority?
Well, if voters think the result is a foregone conclusion they may think they don't need to vote SNP.
There are three other independence supporting parties - Scottish Greens, Rise and Solidarity - to choose from if that's your bag.
And then there are the quirks of the quasi proportional voting system used to elect the Scottish Parliament.
Battle on for second
The more constituency seats a party wins the fewer seats they get from the "party list" section of the vote. It is a system that was designed to prevent any party from ever getting an overall majority in Holyrood.
The SNP broke that system at the last election in 2011 when they got 69 out of 129 seats.
But if they do too well in the constituency seats this time then they worry they might not get enough list seats to put them in overall control. Hence the hashtag "BothVotesSNP" that dominates all their literature
Whether we are witnessing genuine last minute jitters from the SNP - or carefully calculated warnings designed to maximise their vote - the real battle is still for second place. To see who will become the official opposition.
For the first time in living memory the Tories believe they could beat Labour into third place.
Scottish Conservative leader Ruth Davidson has based her entire campaign around saying "vote Conservative for a stronger opposition".
She explains she knows she isn't going to end up running the country but argues she would be more effective at holding the SNP to account.
Labour's Kezia Dugdale has to say she wants Nicola Sturgeon's job and hopes to be First Minister on Friday. But she doesn't look like even she believes that will happen.
Long gone are the days when Labour was the natural party of government in Scotland and Ms Dugdale is now fighting to make sure Labour can at least remain the party of official opposition.
If Labour are beaten by the Tories, which looks unlikely but not impossible, that will be a seismic shock to Scottish politics from which it could take the party decades to recover.
Nicola Sturgeon has had to try and make sure she doesn't look complacent during this campaign. She has to be seen to put the work in. So she has been measuring her steps on her new apple watch.
She says she has walked 250 kilometres during this campaign. If all our predictions about the result come true that may become known as the "long walk to victory".