April winds boost for green energy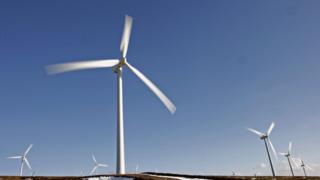 Wind turbines produced enough power to meet the needs of more than three-quarters of Scottish households in April, according to new figures.
Data from energy analysts WeatherEnergy indicated wind farms provided 699,684MWh of electricity to the National Grid.
They said the total was enough to power 79% of average Scottish households, equivalent to 1.9 million homes.
The energy output was up by 15% compared with the same time last year.
WeatherEnergy said on eight days in April, wind turbines generated enough electricity to supply 100% of Scottish homes.
Karen Robinson of WeatherEnergy said: "After a relatively slow start to the year, Scotland's wind power output is back on the up thanks to some powerful winds during the month.