The Daily Record is named Scottish newspaper of the year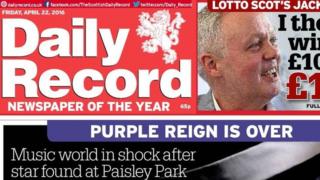 The Daily Record has been named Scotland's newspaper of the year at the Scottish Press Awards.
The tabloid also scooped the campaign of the year for its coverage of the refugee crisis and war on terror.
Mark Macaskill from The Sunday Times was named journalist of the year and reporter of the year.
The Scottish Newspaper Society's director John McLellan said the awards demonstrated the "excellence of journalism" in Scotland.
The Fife Free Press was named weekly newspaper of the year.
The Sunday Mail landed the scoop of the year for a story about a "forgotten suspect" in the Emma Caldwell murder inquiry.
Austin Lafferty, the chairman of the judges, praised the Daily Record's win.
"A year after the referendum, the Daily Record is engaged by the power brokers, has a mass readership and looks after emerging talent in the industry," he said.
"The Daily Record has survived the decline of the Labour party without falling, and is transcending the Scottish political landscape as well as building an aggressive new media strategy, keen to embrace our digital future."
---
The full list of winners:
Sports photographer of year - Jeff Holmes
News photographer of the year - Jeff Mitchell (Getty Images)
Cartoonist of the year - Steven Camley (The Herald)
Young journalist of the year - Sarah Vesty (The Daily Record)
Weekly newspaper of the year - Fife Free Press
Arts/entertainment journalist of the year - Matt Bendoris (The Scottish Sun)
Interviewer of the year - Patricia Kane (Scottish Mail on Sunday)
Political journalist of the year - David Clegg (The Daily Record)
Columnist of the year - Chris Deerin (Scottish Daily Mail)
Financial/business journalist of the year - Erikka Askeland (The Press and Journal)
Feature writer of the year - Jonathan Brocklebank (Scottish Daily Mail)
Sports feature writer of the year - Hugh MacDonald (The Herald)
Sports news writer of the year - Keith Jackson (The Daily Record)
Innovation of the year - Merry Christmas Loyal Customer (The Evening Telegraph, Dundee)
Front page of the year - Mince... (Edinburgh Evening News)
Journalism team of the year - The Scottish Sun for the M9 police call centre scandal
Campaign of the year - The Daily Record for the "Refugee Crisis and War on Terror" #Wehaveroom
Scoop of the year - The Forgotten Suspect by Jim Wilson and Brendan McGinty (The Sunday Mail)
Reporter of the year - Mark Macaskill (The Sunday Times)
Lifetime achievement award - Bruce Waddell
Journalist of the year - Mark Macaskill (The Sunday Times)
Newspaper of the year - The Daily Record