RBS to axe 600 jobs, says union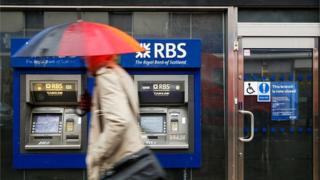 Royal Bank of Scotland is axing 600 jobs at retail bank Natwest and closing 32 branches, trade union Unite says.
Around 400 of the roles being cut are in the Midlands, East and the North, with the rest in London and the South East, according to Unite.
RBS wouldn't confirm the numbers, but said the way customers' interacted with the bank was changing.
"We have to continually adapt... to ensure we remain viable and relevant both now and in the future," it said.
The redundancies mean RBS has cut around 1,500 UK jobs this year. Most of the cuts are in the retail division where the bank has already announced plans to axe about one in every 12 jobs.
Like many UK banks, RBS is closing branches as more of its customers bank online meaning fewer staff and branches are needed.
It is also trying to cut costs.
'Difficult news'
In February, RBS announced pre-tax losses of £1.98bn in 2015 - the eighth year in a row that it has made a loss.
The bank, which came close to collapse at the height of the financial crisis, is also still setting aside billions to cover past mistakes and fines.
It is still 73% owned by the government as a result of a bailout it received in 2008. RBS' shares are currently trading at 230p, under half the 500p a share paid by the government for its stake, meaning its plans to sell off more of its stake in the bank are likely to be delayed.
"This is clearly difficult news for staff affected by these changes. We are doing everything we can to support them, including seeking redeployment opportunities wherever possible and ensuring that compulsory redundancies are kept to a minimum," RBS said in a statement.
Unite Regional Officer Lyn Turner said the latest cuts would hurt RBS' customers as well as its members.
"With every branch closure Natwest is slamming its doors on another community, dangerously undermining the bank's long-term future," she said.