Peter Pan statue fetches £60,000 at Edinburgh auction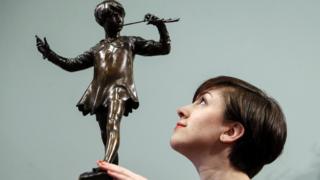 A rare bronze sculpture of Peter Pan has been sold at auction for more than twice its estimated value.
The figure of the popular children's character was expected to fetch up to £30,000 but it finally sold for £60,000 at an auction in Edinburgh.
It is a smaller version of a statue commissioned by JM Barrie, the Scottish author of Peter Pan, to stand in a London park.
Auction house Lyon and Turnbull said the item sold to a private collector.
The anonymous buyer said: "I am thrilled to have been lucky enough to have purchased this iconic statue of Peter Pan, it has been on my shopping list for a number of years.
"Peter Pan is one of the most magical characters of our childhood and it will take pride of place in my home."
The original, full-size statue, by Sir George Frampton stands in London's Kensington Gardens.
It was erected in secret, overnight, in 1912. A brief announcement in The Times described it as a "May-day gift by Mr JM Barrie."
Work is underway to convert a house in Dumfries, which helped inspire the Peter Pan story, into a national centre for children's literature.
Barrie moved to Dumfries in 1873 at the age of 13 and credited the "enchanted land" at Moat Brae, where he played, as being the basis for the story.