JK Rowling wears Scottish Resistance April Fool T-shirt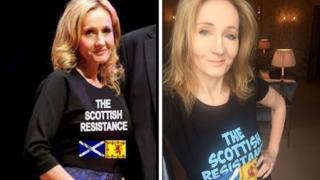 JK Rowling has turned the tables on a pro-independence group by wearing their T-shirt for an April Fools' Day prank.
The Harry Potter author tweeted a photo of herself in the Scottish Resistance garment, in response to the group's own April Fool joke.
Scottish Resistance founder James Scott claimed Ms Rowling had become a member when he posted an image of her on Facebook.
It was photoshopped to show the pro-union author wearing the group's logo.
The Facebook post included the caption: "Breaking News: JK Rowling has joined the Scottish Resistance and has started her new book The Fall of the House of Westmonster."
The author, who lives in Edinburgh, was alerted when BuzzFeed correspondent Jamie Ross posted the joke on Twitter. She replied with her own April Fool selfie.
She wrote: "They needn't have used photoshop, though".
It was retweeted more than 300 times by Friday afternoon.
Ms Rowling faced online opposition from the Scottish Resistance and other groups during 2014's independence referendum after voicing support for Scotland to remain in the UK.
In January 2015 the Scottish Resistance staged a protest against Tunnock's. The Uddingston firm had used "great British teacake" adverts to promote its products on the London underground.