Industry warns over botox 'cowboys'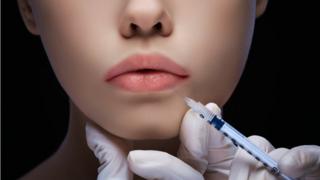 Cosmetic "cowboys" will operate with impunity despite new laws to regulate the sector, an industry body has said.
The legislation will mean extra checks for qualified professionals who offer non-surgical procedures like botox.
But Save Face, representing doctors, dentists and nurses in the industry, warned unregistered practitioners would not face regulation.
The Scottish government said the new laws would ensure safe and high quality care in independent clinics.
Non-surgical cosmetic procedures like teeth whitening and dermal fillers have become increasingly popular in recent years, but no training or expertise is required to offer them.
From 1 April, independent clinics run by qualified professionals will face tighter monitoring by the NHS watchdog, Healthcare Improvement Scotland.
Unregistered practitioners such as beauty therapists and hairdressers will not be regulated until later years.
'Cut-price'
Save Face said its members would have to increase their prices as a result of the extra checks, while those who posed the greatest risk would be able to continue working at lower cost.
The organisation's director, Ashton Collins, said the "phased" approach to regulation would put the public at greater risk, making it difficult for people to find a "safe pair of hands".
"It will leave the public prey to a two tier system: good practice by well-qualified professionals on one level, which will almost certainly cost the consumer more," she said.
"On another level, a cut-price, budget approach provided by untrained practitioners with little consideration of risk or redress if complications arise."
The president and founder of the Association of Scottish Aesthetic Practitioners, Dr Simon Ravichandran, has also echoed these concerns.
Research by YouGov suggests 4% of the population have had a cosmetic procedure.
In 2013, a review of the cosmetic industry by Sir Bruce Keogh recommended that all practitioners should be properly qualified.
Sir Bruce warned that procedures which could cause lasting harm were covered by the same level of regulation as ball-point pens.
Scotland's minister for public health, Maureen Watt, told Holyrood's Health and Sport Committee that there were only a handful of unregistered providers such as hairdressers offering non-surgical cosmetic treatments in Scotland.
However, Mrs Collins said there were "thousands" of non-healthcare professionals operating in the industry.
'High risk' procedures
"It strikes me as incredibly odd that none of our questions have been answered or properly addressed during the consultation process. It seems that they have simply been swept under the carpet by the minister," she said.
She added that providers who offered services in Scotland but were registered in England would continue to face no regulation at all.
Ms Watt said: "The Scottish Cosmetic Interventions Expert Group published a review into these practices last year.
"We are following their recommendations, which includes a three-phased approach to regulation, starting with independent clinics this year.
"The second phase will look at certain high risk procedures, such as dermal fillers, which are being done in clinics provided by other health practitioners. The final phase will seek to develop a system of regulation for other groups of practitioners."