Care businesses say they may be unable to afford minimum wage rise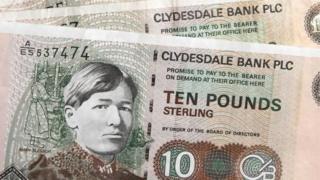 The UK government's new National Living Wage (NLW) has come into effect.
Essentially, it means the minimum wage for those over 25 years old has risen by 50p per hour - from £6.70 an hour to £7.20.
The UK government says the new rate has been set to tackle poverty and inequality.
But there are concerns that some care businesses in Scotland may not be able to afford the increase, and may have to close.
The pay increase means about £900 a year extra for full-time workers, and some care service providers say if they don't get more money from the Scottish government they may have to close.
The Scottish government says it has budgeted £250m in 2016/17 to be invested in social care, and that figure has been accepted by all local authorities.
This sum is based on paying care workers £8.25 an hour - the figure that campaigning group the Living Wage Foundation has been lobbying for - and the Scottish government says it will give 40,000 people, mainly women, doing valuable work a pay rise.
The rise in pay will undoubtedly help those in lower paid jobs - such as cleaning, caring and catering.
Like Elizabeth Davis. She loves her job as a carer. She's planning to go to university this year to study nursing, and, naturally, a pay rise is very welcome.
"It means a lot because I'm going to university next year so the more I can save while I work the better it is for me. I don't have to live off of noodles", she says.
"You know sometime how you're like 'I really don't want to go to work tomorrow?' That was pretty much every day in retail and I never feel like that in this job ever, because I just love it - it's amazing.
"I'm a very people person, really patient, so it's definitely something suitable for me."
Her boss, Robert Kilgour of Renaissance Care, is in no doubt his hard-working staff deserve the pay rise.
But with another proposed increase for carers coming later in the year he worries about the long-term future of the business.
Mr Kilgour says he's been crunching the numbers, and the pay rise will mean he has to make "some very difficult decisions" in the future.
These worries are echoed by the Ranald Mair - chief executive of Scottish Care, the umbrella body for independent care homes.
He also agrees with a wage rise but says care homes haven't been given enough money from the Scottish government to fund it. As a result, care homes may close.
Mr Mair said: "Unless we get the funding of care on to a stable basis going forward, then there is, of course, the potential that people will say we simply cannot survive at this.
"It's the smaller players that struggle the most - wanting to do a good job for their staff but not being able to afford the increased bill unless we're successful with the government and the councils in improving the funding for care.
"People may decide, regrettably, that they can't sustain their position."