Car crashes into bus stop and post box in Aberdeen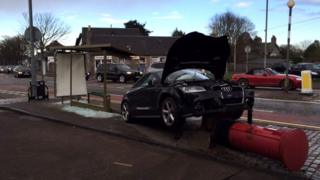 A woman was taken to hospital after a car crashed through a bus stop in Aberdeen.
The black Audi TT also knocked over a post box.
The accident happened on Countesswells Road just after 16:00 on Tuesday, and caused delays as the vehicle was removed.
There were no serious injuries. A woman - believed to be the driver and aged about 60 - was taken to hospital.