Royal Regiment of Scotland turns 10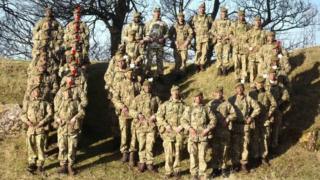 The Royal Regiment of Scotland has turned 10 and plans a number of events to mark the occasion.
Celebrations begin next month as the Regiment exercises the freedom of the city with a Royal Mile parade on 22 April.
A new exhibition marking its first decade of operations will also be opened in the National War Museum in Edinburgh Castle.
And a thanksgiving service will be held at the Canongate Kirk.
The Regiment comprises of six battalions and one independent company of combat infantry soldiers.
'Proud history'
Retired Maj Gen James Cowan said: "Since the regiment was formed in 2006 our soldiers have deployed almost continuously on operations around the world, so the regiment is now building its own proud history as we head into the future.
"Over the course of hundreds of years Scottish infantrymen have fought with courage.
"That has not changed. If you look at the stories behind the many combat honours for bravery under fire that Royal Regiment of Scotland soldiers have been awarded over the past decade, including 13 Military Crosses and one Queen's Gallantry Medal, it is very humbling."
The Regiment is founded on the heritage of 14 historic Scottish Infantry Regiments.