New normal: Brussels comes to terms with terror attacks
A police officer carrying a machine gun was what greeted me as I stepped off a high speed train from Paris on Tuesday night.
His expression was tense as he examined the faces of the passengers as they made their way along the platform, and mirrored those of the other officers, most of them also heavily armed.
Other officers with dogs patrolled Brussels Midi station, and outside were soldiers in camouflage uniform standing beside military vehicles.
It seemed a bit incongruous to then step into a comfortable taxi to be taken to a hotel.
But on the day terrorists claimed the lives of more than 30 people and injured 300 this was fast becoming the new normal, and incongruities were everywhere.
I dropped my bag at the hotel and headed to Place de la Bourse, site of the old stock exchange and which was quickly becoming a rallying point for Bruxellois who felt the need to gather together.
The mood was quietly defiant.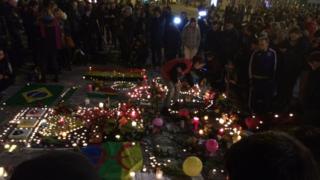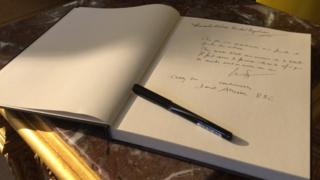 Chalk messages covered the pavement, a sort of Twitter feed under your feet, and people talked quietly and lit candles.
A couple of people told me that they hadn't wanted to stay at home, that they'd needed to gather with others to express their disgust at what had happened at Brussels Airport and at the Maelbeek Metro station.
The area around the Grand Place was like a ghost town. Many bars and cafes had closed and many others were shutting down early.
A lone gay bar down a side street was full of people.
As David Bowie once sang, the boys were clearly keeping swinging.
The next morning it had rained during the night, washing away some of the chalk social media feed on the pavement at Place de la Bourse.
By now European and world media were making their presence felt, the caravan of lights, cameras, autocues, podiums, gazebos, and generators steadily building up during the day.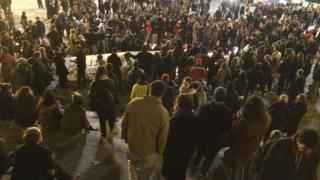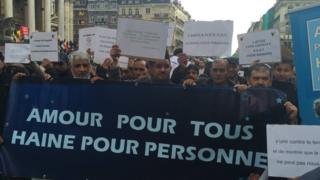 I was able to get an interview with Alphonse Youla an airport worker who had been very close to both explosions and had helped a number of people to safety.
Still clearly shocked, he told me he had hardly slept and had suffered flashbacks during the night from what he had experienced and witnessed in the attack and its aftermath.
He also said he'd been issued with a parking ticket that morning when he drove in to speak to the Belgian media.
Our hero of one day hadn't exactly become a zero of another, but there was a certain irony in the way the mundane was taking over again.
The authorities seemed determined to get things back to normal faster than they had in November after the Paris attacks when Brussels was kept in a state of suspended animation for four days.
The metro was partially reopened and I took the opportunity to take a ride and put together a report.
Soldiers searched passengers entering the De Brouckere station, and the service only stopped at a few stations, eerily slowing down and passing through those ones which were still closed.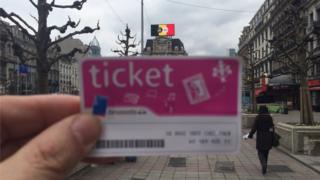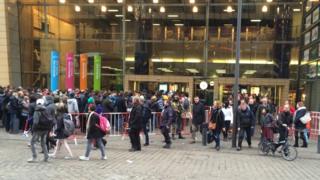 As I sat down in a nearly empty train, I recognised the chap sitting in front of me.
Matt Frei from Channel 4 news had had the same idea and was equally surprised at how few people were on the metro.
Those passengers who were using the service told me they had no choice but to do so if they wanted to get to work. Some also said it was important to carry on as normal, as far as possible.
That was their small but significant act of defiance to the terrorists.
But this new normal will take some getting used to.
At the entrance to a shopping mall security guards used a handheld metal detector before letting me in.
At my hotel I had to show my plastic room card outside the building before they would let me in.
Civilian security is reinforcing the armed police and soldiers.
After a while you learned to accept this as a form of reassurance.
At Brussels town hall on the Grand Place a book of condolence was opened. I arrived as they opened and ended up being the second person to sign it.
"Carry on, continuez" I wrote.
Whether Lockerbie, Glasgow Airport, Madrid, London, Paris, Istanbul, Beirut or wherever that's ultimately what each citizen has to do.
And when enough people act en masse as normal the terrorists are losing.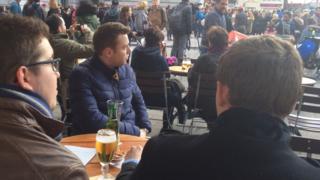 Back at Place de la Bourse on the second evening after the attack the mood had changed.
The candles and chalk messages were still there, but the defiance was more stated, with anti-Daesch chants and pro-unity shouts.
There was also what could only be described as a sort of festival atmosphere with people drinking beer and some playing music on guitars.
Some held up signs offering free hugs.
I doubt if imams are allowed to take up such offers, but comfort and reassurance is much needed for Brussels' Muslim community.
These terrors have come from their midst, Belgian nationals from places like Molenbeek radicalised into acts of barbarism.
Assad Majjib and Hassan Sukunda, both imams from the Ahmadiyya mosque, stressed that true Islam has nothing to do with such violence, and they despair at what has happened.
And they were at Place de la Bourse to show solidarity and unity with their fellow citizens.
Around the corner from Place de la Bourse is Brussels' famous little symbol of defiance, the Manneken Pis, the statue of a wee boy urinating.
One story goes that it relates to a time in the 14th century when Brussels was under siege and a boy saw attackers laying explosive charges in the city walls.
He urinated on the lit fuse, putting it out and saving the day.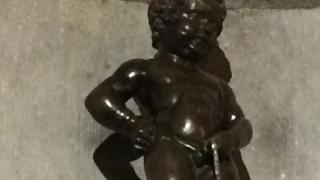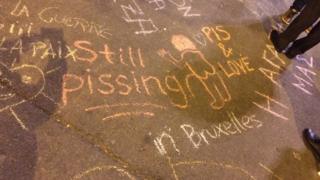 You couldn't get a more appropriate city symbol to sum up the mood of defiance.
Since it was put up around 1618 the statue and the city has seen its way through the Napoleonic wars, and two world wars, including Nazi occupation.
Brussels will survive the latest troubles as well, even if it means getting used to the new normal.
Listen again to David Allison's Reporter's Notebook on Saturday's Good Morning Scotland programme.