Police chief urges 'alert not alarm' after Brussels attacks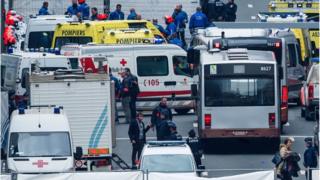 Police patrols at airports and railway stations in Scotland have been increased in the wake of the terror attacks in Brussels.
First minister Nicola Sturgeon said there was no specific threat and she urged people to "go about their daily business without fear".
Police Scotland asked the public to be "vigilant and alert, but not alarmed" in crowded places and transport hubs.
All flights between Edinburgh and Brussels have been cancelled.
More than 30 people are believed to have been killed and dozens more injured in attacks at Brussels international airport and a city metro station.
Ms Sturgeon chaired a Scottish government resilience (SGORR) meeting following what she described as the "appalling and devastating attack".
---
More about the attacks
In pictures: Brussels explosions
---
The first minister said: "My thoughts are with everyone affected by the incident at Brussels airport and Maelbeek metro station this morning.
"I convened a Scottish government resilience meeting to ensure that in Scotland we are closely monitoring the situation.
"We are working alongside the UK government and we stand ready to help in any way we can."
She added: "Scotland is a diverse multi-cultural society and this diversity is our strength.
"Terrorist attacks are intended to divide us and destroy the freedoms and way of life we value so highly.
"We must unite as a community here at home - and in solidarity with those in Brussels - to make clear that they will not succeed."
At a hate crime conference in Glasgow, the head of Police Scotland said the force was in close contact with counter terrorism officers in London.
"We are reflecting on what is a sensible and proportionate response to what we have seen across the Channel," said Phil Gormley, the chief constable of Police Scotland.
"At the moment we will increase our reassurance and uniform presence, particularly at Edinburgh and Glasgow airports, but my message really is alert not alarm.
And in a statement published later, Assistant Chief Constable Ruaraidh Nicolson added: "If you suspect something is wrong, then report it to the police.
"I would stress that there is no specific information which suggests Scotland is at risk of attack, however, the UK threat level remains at 'severe' and our communities are not immune from the threat posed by terrorists.
"That's why I would encourage people to go about their business as normal but remain vigilant"
The attacks came four days after Salah Abdeslam, the main fugitive in the Paris attacks, was seized in Brussels.
Laura Rayner, the chief of staff for the Scottish MEP Alyn Smith, told BBC Radio Scotland that the streets of Brussels were filled with army units and police cars.
"The city is just... it's quite extraordinary at the moment," she said.
"I think there was an expectation that there might be reprisals from other cells but it's still horrendously shocking when anything like this does happen."
MEP David Martin was also in the city.
He said: "The explosion at the airport was dramatic but I guess, from a more personal, direct point of view, the explosion at Maelbeek station, which is literally in sight of my office, is even more stunning.
"Clearly we hope not, but the fear is we are almost certainly going to know some of the people involved in that.
"It's the main station, I would say, for 50% of the European institution staff."
Labour MEP Catherine Stihler said she was inside the Dutch Embassy in Belgium.
She tweeted: "My team and I are safe. I am still locked down in the Dutch Embassy. Thoughts and prayers with the 23 killed and their families this morning."
Passengers onboard an early morning flight between Edinburgh and Brussels arrived in Liege at around 08:00 after their flight was diverted.
Passengers have been advised to check with their airlines but there are no indications of any wider knock-on effects.