Plea to change 'flawed' Land Reform Bill plans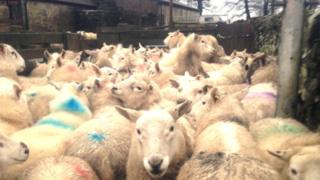 Landowners are calling on the Scottish government to make a last-minute change to "flawed" land reform proposals.
Scottish Land and Estates said giving some farmers more flexibility over who they passed their tenancy onto would damage the industry.
Tenant farmers have welcomed new proposals in the Land Reform Bill which will be passed on Wednesday.
Ministers said they wanted to fairly balance the rights of tenants and landlords.
In the bill, there are new rules over who can take over tenancies issued under the 1991 Agricultural Holdings (Scotland) Act.
Farmers will be able to sell or pass on tenancies to a much wider range of relatives. The legislation has been designed to help new entrants to the industry and make it easier for farmers to plan their retirement.
Scottish Land and Estates, which represents landowners, said it was making an "11th hour plea" to ministers for the plans to be changed.
'Damage industry'
The organisation's chairman, David Johnstone, said the "flawed" proposals would damage the sector and could mean landlords would be less likely to let out farms.
"There needs to be confidence for both parties - landlord and tenant - to build a mutually productive relationship. This legislation will have the opposite effect," Mr Johnstone said.
"Landlords want to have the confidence to let land and not have to shoulder the blame when measures brought in by government, against industry wishes, kills that confidence.
"Scottish Land and Estates is clear that assignation of 1991 Act tenancies will damage the industry. NFUS and other stakeholders have also stated their opposition to the measure, as have many tenants."
The Scottish government said the tenancy provisions in the Land Reform Bill were designed to "improve security and investment conditions" for existing tenants and create tenancies for new entrants.
"It will give a secure route out of farming for those who don't have an eligible successor - and allow tenants to retire from farming at a time of their choosing with fair compensation for their investment," a spokesman added.
"It also creates a new opportunity for landlords, giving them the chance to buy out the tenant's interest instead of the tenancy being assigned."