Footballer Denis Law collects 'fantastic' CBE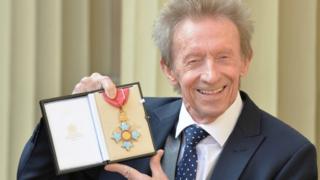 Former Manchester United and Scotland footballer Denis Law has described being awarded a CBE at Buckingham Palace as "fantastic".
The 76-year-old was given the honour for his services to football and charity.
Aberdeen-born Law, who scored 237 goals during his time at United, said the royal recognition was unexpected.
The player rounded off his career by representing Scotland at the 1974 World Cup in West Germany.
Speaking after the ceremony he said: "I just think this is the type of honour that goes to other people. You do not expect to get something like this. It's fantastic."
He said he enjoyed some brief football-related banter with the Duke of Cambridge, who is an Aston Villa supporter.
The footballer said: "The conversation was a bit short because they (Aston Villa) are bottom of the league and things are not going well but the thing is, when you're a supporter you will support your team wherever they are. So I was glad that he supports them, because that's his team."
Law was one third of what became known as Manchester United's Holy Trinity, when he played alongside George Best and Sir Bobby Charlton during his 11-year stint with the Red Devils.
He left Manchester United in 1973 to return to Manchester City, where his 81st-minute back-heeled goal confirmed United's relegation from the top flight.