Low Moss Prison scheme cuts reoffending rate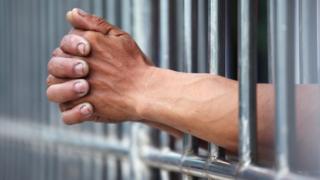 A project to help reduce reoffending among prisoners serving short sentences is proving successful, an independent report has said.
The scheme at Low Moss Prison in Dunbartonshire offers prisoners support throughout their sentence and after their release.
The study found that fewer than 17% of those who had been through the scheme returned to prison.
More than 40% reported a reduction in substance abuse and risk taking.
The scheme, which has been running for three years, involves the Scottish Prison Service and a range of charities led by Turning Point Scotland.
Support is offered to overcome the difficulties prisoners experience in getting accommodation, welfare support and employment on their release, which can lead to many reoffending.
'Old ways'
Five hundred prisoners have been referred to the scheme so far.
Low Moss governor David Abernethy said the pooling of expertise has created a more effective service than any agency could provide on its own.
"It is very encouraging and I hope we can address some of the issues highlighted so that short term prisoners leaving our prison can benefit to an even greater degree from the service provided," he said.
"In this way more prisoners will go out to more positive destinations and the likelihood of them lapsing into old ways will reduce and therefore there will be fewer victims of crime and Scotland can be a safer and more productive place.
The report was carried out by Reid-Howie Associates.
The main findings include:
Less than 17% of all service users returned to custody at some point
51% of people reported an improvement in relation to their criminal behaviour
42% had reported a reduction in their substance misuse and risk taking
Just under a fifth of those interviewed in the community secured some form of work