Scottish attractions visitor numbers up 5.5% in 2015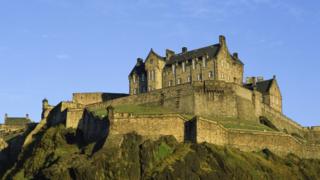 Scotland's attractions enjoyed a 5.5% rise in visitor numbers last year, with Edinburgh Castle the most popular.
VisitScotland hailed the "spectacular" figures, which exceeded the UK average increase of 3.2%.
More than 1.5 million people paid to visit Edinburgh Castle, while the National Museum of Scotland was the most visited free attraction.
The figures were published by the Association of Leading Visitor Attractions (ALVA).
The National Museums of Scotland - including the National Museum of Scotland, National War Museum, National Museum of Rural Life and National Museum of Flight - saw a combined total of 2,338,240 visits.
Exhibitions featuring works by MC Escher and Roy Lichtenstein contributed to a double-digit increase in visitors to the Scottish National Gallery of Modern Art.
The Royal Botanic Gardens in Edinburgh, meanwhile, saw a 10% rise which it credited to its Lights programme in the winter months.
Glasgow's Kelvingrove Art Gallery and Museum enjoyed an increase of 12.4% to 1,261,552 visitors. The city's Riverside Museum also moved up the rankings, welcoming more than 1.1 million people - an increase of 7.8%.
VisitScotland chief executive Malcolm Roughead said: "These really are spectacular results for Scotland's leading visitor attractions and it is wonderful to see this country performing above the UK average.
"Our attractions play a vital role in Scotland's visitor economy, with accommodation providers, restaurants, cafes and numerous other businesses also reaping the benefits of this continued growth."
ALVA director Bernard Donoghue said: "2015 continued to be a record year mainly due to our members continuing to show how diverse the UK is to both domestic and overseas visitors.
"The current weakness of the pound to the dollar and euro is making the UK a more affordable destination and 2016 is on target to be another memorable year for ALVA members, notably the National Museum of Scotland will see 10 new galleries open on July 8."