Film industry boost to Edinburgh hotels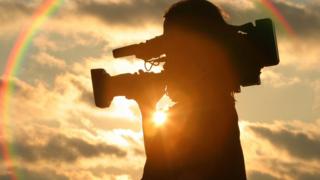 Edinburgh hotels are on track to overtake Dublin's as the second busiest in Western Europe, helped by the film industry's success.
Analysis of the city hospitality sector by PwC points to higher occupancy rate next year than in any other major city other than London.
The consultancy say film-making, such as the TV series Outlander, has brought more visitors to Scotland.
It also cites central belt cultural attractions as helping city hotels.
The themed years of food and drink also helped last year - and architecture and design should boost interest this year, PwC said.
Both Edinburgh and Glasgow share with London an occupancy rate of more than 80%. The capital's hotels are expected by PwC to see that grow to 83% next year, moving ahead of Dublin.
Occupancy rates
Glasgow's occupancy fell slightly in the year following its Commonwealth Games. So did its average revenue per available room.
While Edinburgh's rooms reached £71.65 on that measure, Glasgow hotels' 2015 figure was £58.49, slightly ahead of the UK average.
The problems facing the oil industry hit the performance of Aberdeen hotels.
Having recently seen more capacity added, the oil capital saw occupancy rates fall 11% last year to 66% - just above the UK average - while revenue per available room dropped by a quarter to £56.
In the other key industry measure of revenue per room actually sold, Aberdeen fared much better.
It secured £84.90 per room, while Edinburgh matched the UK average on £87.90 and Glasgow revenue averaged £71.63.
Commenting on the report Bruce Cartwright, head of business recovery services at PwC in Scotland, said: "It's encouraging to see Edinburgh and Glasgow continue to perform well - boosted in part by interest in a growing film and TV industry which has seen the likes of Outlander and other shows filmed here.
"But, it's not just industry professionals driving this boost, with fans of shows and movies shot in Scotland coming here and using the central area as their hub for exploring further afield in the country.
"This fan-based tourism could continue to be an excellent benefit to the country as we see continued growing interest in filming in Scotland and potentially a more developed Scottish film studio."
Oil price
He said of the Edinburgh market: "It has seen over 1,000 rooms added over the past three years and more are planned in Glasgow and Edinburgh for 2016, which suggests further continued and encouraging growth.
"The future continues to look positive as organisations concentrate on developing a cohesive Glasgow-Edinburgh tourism industry. Equally, the 'China Ready' initiative for Edinburgh and Scotland's Year of Architecture, Innovation and Design should serve the cities well."
The industry analysis suggests air fares can be expected to fall this year, as airlines price in the benefits of lower fuel costs. Some delayed that in the past year because their fuel was bought in advance, on hedged contracts at higher rates.
However, that drop in the oil price continues to weigh heavily on Aberdeen travel businesses.