War memorials in Scotland receive £87,000 repair grants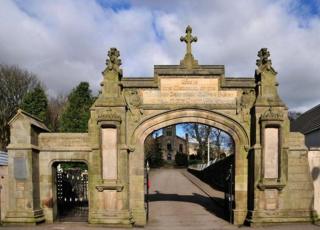 Eight decaying war memorials are likely to be repaired after being awarded grants totalling £87,000.
Monuments in Orkney, Stirlingshire and Falkirk will be among those which will benefit from the fund.
Kirkintilloch war memorial has received the largest grant - more than £48,000 for major repairs to Peel Park archway.
The Centenary Memorials Restoration Fund also awarded almost £27,000 to Lennoxtown's Campsie memorial to repair its stonework arch and ironwork gates.
It coincides with commemorations for the centenary of the beginning of the Battle of Verdun - one of the longest and bloodiest battles of World War One.
The fund is funded by the Scottish government and Historic Environment Scotland, and it is administered by the War Memorials Trust.
Since it was launched in 2013, grants totalling £617,000 have been offered to 73 Scottish war memorials.
The trust's director, Frances Moreton, said: "It is wonderful that since the fund launched in 2013, communities across Scotland have received funding to support the repair and conservation of their local war memorials.
"Over 70 memorials have benefitted so far but hundreds of memorials across Scotland remain in poor or very bad condition.
"With funding still available we hope that many more repair and conservation projects will emerge."
---
War memorials to receive funding
Cowie war memorial, Stirlingshire. (Grant of £1,530 to remove unsuitable cladding and replace with stone)
Duke of Wellington memorial, Falkirk (A total of £750 to pay for professional advice on conserving the monument)
Falkirk Boer war memorial (Grant of £750 for specialist conservation advice)
Barra and Vatersay war memorial, Castlebay, Barra (Offer of £2,080 to replace damaged handrails and repaired damaged paving)
Kirkintilloch war memorial, Peel Park (Grant of £48,220 to clean and treat bronze plaques, repair and repaint ironwork gates and re-point whole memorial)
Campsie war memorial, Lennoxtown (A total of £26,750 to clean the monument, repair ironwork gates and stonework)
Longhope war memorial, Orkney (A grant of £4,130 to secure the top section of the memorial)
Strathblane and Blanefield war memorial, Stirlingshire (Offer of £2,410 to clean the monument and restore inscription)
---