Can long lost birthplace of Bill Shankly be revived?
By Martyn McLaughlin
BBC Scotland News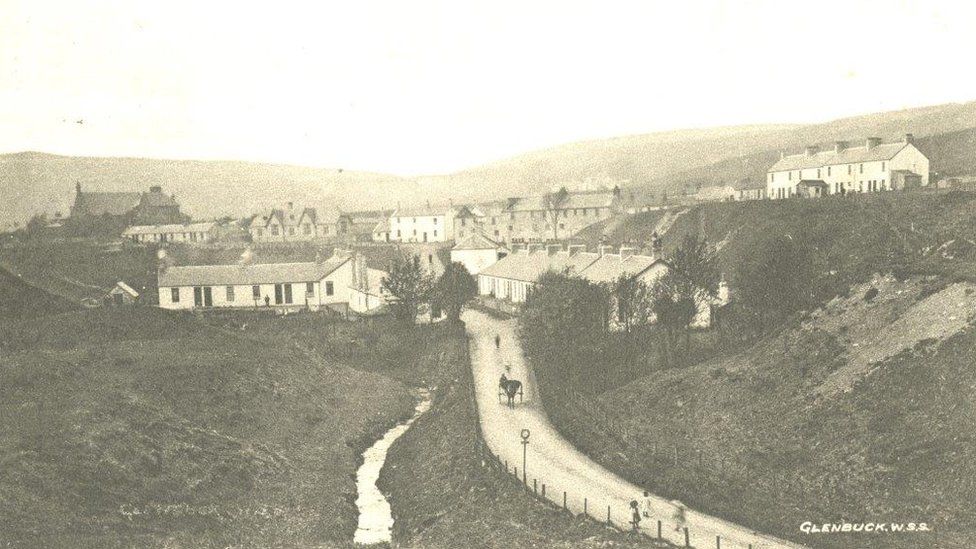 It is a long lost mining village that furnished British football with at more than 50 professional players, including six Scotland internationals and four FA Cup winners.
The Ayrshire birthplace of Bill Shankly, the former Liverpool manager, is in line for an unlikely rebirth as part of wide ranging plans to transform it into a unique visitor attraction.
Glenbuck has been depopulated for close to half a century, unable to withstand the collapse of heavy industry. Though its name still features on maps of Scotland, opencast mining has all but eradicated its footprint.
Burnside Park, the football pitch where Shankly and his four brothers first played, is one of the few sites to have survived. It will form the foundation of a regeneration project that will restore Glenbuck's proud footballing pedigree.
Ultimately, the initiative aims to restore the field, establish a museum and reinstate the village's once all-conquering junior team, the Glenbuck Cherrypickers.
The efforts to revive Glenbuck's footballing heritage - revealed in 'The Cradle of Football', a BBC Radio Scotland documentary - dovetail with broader proposals by the Scottish Mines Restoration Trust (SMRT).
The body was set up by the Scottish government to restore 10,000 acres of opencast land left abandoned after the demise of major coalmining firms in 2013.
In tandem with the British Geological Survey, it wants the area designated as Scotland's first carboniferous research park, thanks to the unprecedented geological features at Spireslack, the opencast mine that has swallowed up the site.
A legacy of the mining work is a two square mile, cliff-like section showing strata dating back hundreds of millions years. To geologists, it is a discovery of major significance.
"It's a shop window or a portal into the subsurface," explained Dr Graham Leslie, senior mapping geologist at the British Geological Survey.
"The layout means you can stand inside the geology, as it were. When you're at the bottom of the void, it gives you a much better understanding of what geology is really about - the three dimensional arrangement of rocks, their shape, form and architecture."
Professor Russel Griggs, chairman of the SMRT, said: "We have people who come from all over the world to Spireslack.
"One geologist told me it's as internationally important as the Large Hadron Collider at CERN is to the particle physics community."
The footballing element of the scheme is being spearheaded by Robert Gillan, a youth football coach from the nearby village of Douglas.
The co-author of Shankly's Village, a book charting the glory days of Glenbuck, he has started a charitable football academy in the village's name, which trains youngsters in Douglas, South Lanarkshire, one of Scotland's most deprived areas.
The 49-year-old said: "There's not a place in the world that's produced more than footballers than Glenbuck, based on its population, which was never bigger than 1,700. It's the equivalent of a minor non-league club in London producing a quarter of a million players."
"Bill Shankly is the most famous and Liverpool fans regard the village as a special place, but what I'm trying to do is bring the game back to a part of Scotland most people forget about or don't even know existed."
In the coming weeks, the SMRT will finalise their plans before compiling a business plan to take to the Heritage Lottery Fund. Other possibilities include utilising it as a location for film and television productions. But it is the bond between industry and football that Prof Griggs believes is the most compelling draw.
"My big aim is to try and restore the Cherrypickers pitch and ideally, build four or five cottages," he said. "One of the interesting things our consultants have said is there might be a real market for Liverpudlians coming up to Glenbuck to play a few games of football."
"I was astounded at the number of people that come to a memorial to Bill Shankly, it's about 2,000 people a year that come to Glenbuck."
The plans are also being supported on Merseyside. A fundraising match is due to take place in May between Mr Gillan's youth team and a side sponsored by the Shankly Family Foundation. The event will also see Liverpool fans embark on a sponsored cycle from Anfield to Glenbuck.
Crucially, Shankly's relatives have also lent their support. Shankly's grandson Chris Carline said: "There's been a lot of support from different agencies. We'll have a lot of sponsorship from local businesses. Liverpool Football Club are going to help us promote it.
"So something that only came to us as an idea about a month ago has come together quite quickly."
Shankly's daughter, Jeanette Carline, used to spend summer holidays in Glenbuck with her father.
"It was the best holidays we've had. He just loved to go back home where he belonged and so many people loved him and were proud that he'd come from Glenbuck," she said.
"It's been too long since something's been done with the village. I think it's just been left to die off."
'The Cradle of Football' will be broadcast at 09:30 on BBC Radio Scotland's Good Morning Scotland on Sunday 28 February. It will be available afterwards on the BBC iPlayer.