STV reports local TV station in Glasgow 'breaking even'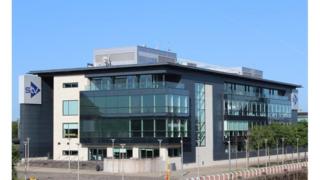 Broadcaster STV has reported that its local television station in Glasgow is now breaking even.
STV Glasgow was launched in 2014 and is part of a UK-wide chain of local television stations.
STV also has a station covering Edinburgh and plans more.
The news came as the company revealed it made an overall pre-tax profit of £19.1m in 2015 - up year-on-year by 10%, even though overall revenue slipped by 3%.
The local television stations are a relatively small but high-profile part of the company's operations. Its main businesses are its Channel 3 station and production arm which makes programmes for the BBC, ITV network and others.
STV Glasgow went on the air in May 2014, while STV Edinburgh launched last year and is still to break even. Stations covering Ayr, Dundee and Aberdeen are due next year.
The company said both city services achieved an average monthly reach of 30% of the available audience within their transmission areas.
Revenues generated from them increased by 66% year-on-year to £1m against £600,000 in 2014.
The overall city television business is "on track" to break even next year.
The local television chain was set up by the UK government and former culture secretary Jeremy Hunt was an enthusiastic supporter. STV was the only established broadcaster to apply for licences. Some local stations in other parts of the UK, run by new operators, have struggled to make an impact.
The Scottish stations are expected to move to a more prominent slot on Freeview shortly as a result of BBC3's change to become an online operation.
'Good performance'
STV chief executive Rob Woodward said: "2015 returned a good performance for the group with operating profit above £20m for the first time in eight years generating steadily growing returns to shareholders and reducing net debt to its lowest level since the mid-1990s.
"Our investments and focus have put us in a strong position to deliver organic growth in the future and the increasing diversity of earnings improves the security of returns for our investors."
The proportion of the company's earnings which come from activities other than broadcasting doubled from 11% in 2011 to 22% last year.
STV's principal activity is still the Channel 3 television service for Central and Northern Scotland.
From next week, STV's stations will be the only ones in the network which are not owned by ITVplc. The FTSE 100 company, formed through a series of mergers between the former regional broadcasters in England and Wales, is buying the Northern Ireland station UTV.
STV has said it does not expect this to have any bearing on its future.