Andy Murray and wife Kim's baby named Sophia Olivia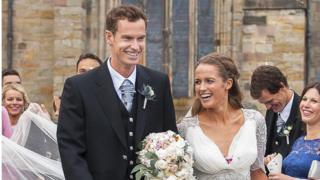 Tennis star Andy Murray and wife Kim Sears have named their baby Sophia Olivia.
The couple, who are both 28, had announced the birth more than a week ago.
The baby, which weighed 8lbs 10oz at birth, is believed to be at home with her parents in Surrey.
Bookies had been offering odds on the baby's name since the pregnancy was announced last year. One said the choice had "cost them a fortune".
Andy and Kim, who have been together for nine years, married in April last year in the former Wimbledon champion's home town of Dunblane in Perthshire.