Scots health watchdog accused of 'marking its own homework'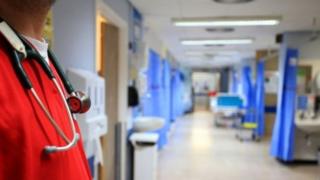 A major international review has called for the Scottish NHS to have better arrangements for dealing with mistakes and poor performance.
The Organisation for Economic Cooperation and Development (OECD) said the body responsible for scrutinising and improving care in NHS Scotland risked "marking its own homework".
It echoes calls by a new pressure group for an independent regulator.
The Scottish government said it would look closely at recommendations.
However, the government also said the report recognised the quality of Scottish healthcare.
The report is part of a series of OECD publications reviewing the quality of health care across selected countries.
It is designed to help policy-makers deliver good value for money in the face of increasing health costs.
The authors conclude that Scotland needs to establish a national system for reporting "adverse events".
They recommend that Scotland should reconsider the role of Healthcare Improvement Scotland, which is currently responsible for both improving care and scrutinising poor performance.
Last month a group of campaigners and NHS whistleblowers formed a new pressure group called ASAP NHS to call for better regulation of of the NHS.
They argue that the Scottish government is failing in its duty to protect patients because it does not have an independent healthcare regulator. The OECD report seems to agree that there is a weakness in the Scottish system.
'Robust regulation'
Health Secretary Shona Robison said: "We are clear that we currently have strong robust regulation processes in place.
"This includes Healthcare Improvement Scotland, which can conduct unannounced, in-depth, inspections across the healthcare sector. Its reports are used to identify issues and provide the basis for improvement.
"If necessary HIS can refer any points they identify to other regulators, or indeed the appropriate authorities for criminal investigation.
"There are already two on-going reviews of scrutiny in Scotland - one specific for health and one wider-ranging across the public sector. We will consider the specific OECD recommendations on scrutiny alongside these reviews."
She added that the report highlighted the success of Scotland's Patient Safety Programme, which is internationally recognised.
However, the OECD pointed out that the UK as a whole puts more energy into quality initiatives than any other country in the world, yet the quality of health care in the UK is no better than average.