Doctors and nurses leaders welcome training funds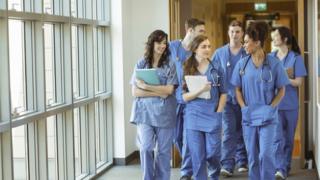 Doctors and nurses leaders have welcomed an extra £27m of funding to train more medical staff in Scotland.
First Minister Nicola Sturgeon said the money would increase the number of medical school places by 50.
Training will also be provided for 500 advanced nurse practitioners and a programme launched to help less well-off students train as doctors.
Opposition politicians said the five-year funding pledge was just a "drop in the ocean".
Ms Sturgeon made the funding announcement in a speech at Queen Margaret University in Musselburgh on Wednesday.
The £27m commitment will be delivered over five years, until 2020/21, and includes:
£23m to increase the number of medical school places from 850 to 900 from August
£3m continued investment in rolling out the role of Advanced Nurse Practitioner
An entry level programme to support secondary students from deprived backgrounds to prepare for undergraduate medicine courses
A Scottish graduate entry programme in medicine that offers to pay fees for students who agree to work in the Scottish NHS after qualifying
A £1m discretionary fund for nursing and midwifery students experiencing financial difficulties.
In her speech, Ms Sturgeon also acknowledged the challenges in recruiting GPs.
She said: "We already know the next decade will present real challenges for us in recruiting GPs.
"Many of our current GPs are due to retire and an increasing proportion will choose to work part time.
"What we need to do is take action now to address that and that's why we've increased the number of GP training places from 300 a year to 400 and we're trying to encourage former GPs who have perhaps left the profession to care for children or elderly relatives to come back."
On Monday, a new recruitment campaign by the Scottish government called for junior doctors across the UK to consider a career in Scotland.
The additional investment in widening access to medical careers was praised by Prof Derek Bell, president of the Royal College of Physicians of Edinburgh.
He said: "Widening participation in the medical profession is a key element in addressing the future challenges of the NHS.
"We must ensure that a career in medicine is open to all those with ability and not restricted by factors such as socio-economic status."
BMA Scotland welcomed the extra medical places but asked for more investment in further training once students had completed their initial medical studies.
Dr Peter Bennie, chairman of BMA Scotland, said he looked forward to seeing more detail on how students from deprived backgrounds would be supported in their medical careers.
He said: "If students from the lowest income households are to be encouraged into higher education, then it needs to be affordable and the support available must ensure students can meet their day-to-day living costs."
'Crucial role'
Theresa Fyffe, Royal College of Nursing (RCN) Scotland director, said: "The first minister demonstrated an awareness of the crucial role that today's nurses play in delivering health services in hospitals and across our communities.
"The package of measures she announced will help to ensure that future generations benefit from the unique skills and knowledge that members of nursing teams bring to health services and to their patients."
Scottish Liberal Democrat health spokesman Jim Hume said the Scottish government was "only just waking up" to a recruitment crisis in the NHS.
He said: "This is a rushed response to what she knows are ticking time-bombs but will not provide additional resources immediately.
"This investment is a drop in the ocean that will not deliver what's needed so desperately on the ground."