Refugees trained to work in Scottish NHS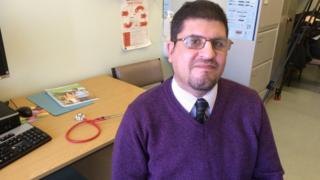 Medically-trained and qualified refugees are being given help to get the additional skills they need to work for the NHS in Scotland.
The Glasgow-based New Refugee Doctors Project said it was offering about 30 medics support to access the training.
They will also be given the language help, professional mentoring and work experience required for them to re-enter their profession.
NHS doctors must be registered with the General Medical Council (GMC).
In order to do so they must pass strict English language, linguistic and clinical tests set by the GMC.
The project is being run by the Bridges Programme, which works to integrate refugees into society, alongside the BMA and NHS Education for Scotland.
'Appalling circumstances'
It aims to prevent de-skilling, and to give refugees the chance to experience the reality of working as a doctor in Scotland and overcome any cultural and linguistic barriers.
Some of the doctors already involved in the programme specialise in fields such as trauma medicine, paediatrics, rehabilitation, general practice and prosthetics.
Bridges Programme director Maggie Lennon said the "talented and motivated" men and women involved in the project "only want to be able to get back into the professions they love, and in which they have been so successful at home."
She added: "Appalling circumstances have brought them to our shores, and the very least we can do is help them re-establish themselves and at the same time help the NHS in Scotland."
The Scottish government's international development minister, Humza Yousaf, said access to training and employment for refugees was crucial to integrating them into Scottish society.
He added: "Employment is vital in helping people to make connections and friendships across communities; to building self-esteem; and to securing a better life, free from poverty."