Campus 'strengthens' fight against international crime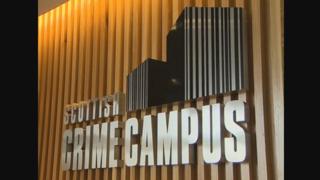 The new Scottish Crime Campus has given police significant new resources to pursue criminals across international boundaries, Police Scotland has said.
Police, prosecutors, HMRC and the National Crime Agency (NCA) work under one roof in the £73m complex.
The force said this has improved information and intelligence sharing.
Chief Constable Phil Gormley said the campus, at Gartcosh, had placed Scotland at the forefront of modern crime-fighting methods.
They have linked organised crime groups in Scotland with activities in countries as far apart as Nepal and Slovenia.
Scotland's Serious Organised Crime Task Force has met at Gartcosh to mark the second anniversary of it becoming operational.
Mr Gormley said its impact had been breathtaking.
He said: "It has led to a sea-change in how organisations, including law enforcement, share information and develop opportunities to detect and disrupt criminality.
"Through working more effectively and smarter, through sharing information and intelligence and by linking our resources, if there is a threat posed by criminality connected to any part of the world, we will go and we will seek to nullify it for the benefit of our communities here."
He said a range of organisations working together at Gartcosh had built a new network for tackling crime and establish new ways of doing that to make communities safer.
"The Scottish Crime Campus epitomises the way we can collectively work to counter the threats presented by serious organised crime, violent criminals and terrorism.
"I know that the way we work at Gartcosh is looked upon enviously by other parts of law enforcement in the UK and there is considerable international interest in the work of the campus."
Police Scotland shares the building with officers of the NCA, which has direct links to other national crime agencies abroad.
---
Case studies
Police gave examples of the successes of collaborative working at Gartcosh:
Forensic scientists, working closely with Europol, have been at the forefront of a project to link the use of decommissioned firearms across the UK.
Scotland's first case of "cuckoo smurfing", an international fraud on a truly vast scale, resulted from close working between the Crown Office, Police Scotland and NCA. Three men were jailed for more than nine years for orchestrating illegal money movements between Scotland, Pakistan, United Arab Emirates and Iran.
Operation Platform, a multi-agency investigation focused on nail bars across the west of Scotland, resulted in 27 arrests for immigration offences, two adults and four juveniles who had potentially been trafficked, including a young woman who reported being forced into prostitution in China by a serious organised crime group before being trafficked across Europe to the UK.
---
The force said co-operation between the organisations, and involvement of prosecutors in the Crown Office and tax investigators from HMRC had enabled them to tackle fugitives and dismantle international commodity networks through operations and investigations in all four corners of the world.
Police investigations are aided by forensic scientists working for the Scottish Police Authority in a £6m forensics laboratory area, using DNA 24, the most advanced profiling facility in Europe.
A total of 22 Scottish-based serious organised crime groups, involving 440 individuals, have been assessed as having international reach.
David Odd, HMRC's assistant director of fraud investigation, said: "The last two years have seen important changes in the way we work with our partners to tackle serious and organised crime.
"Through this collaboration we have shared resources, tactics and information with great success from the outset.
"Undoubtedly, this has helped us by bringing extra strength to bear on the people who were profiting from criminality, and helped us in our efforts to systematically dismantle organised crime groups from all angles."
Spain continues to be the main country with organised crime links to Scotland, with China, the Netherlands and Ireland also featuring in the work at Gartcosh.
But police have investigated links with three new countries - Nepal, Germany and Slovenia - in relation to immigration crime, drugs and tobacco fraud.
Other countries where investigations have focused include: Vietnam, Brazil, Albania, Latvia, Cyprus, Belgium, United Arab Emirates, Portugal, Bulgaria, Poland, Morocco and Bangladesh.
The types of commodities include drugs, cash, firearms, counterfeit items, new psychoactive substances, vehicles, plant, tobacco, jewellery, people, metals and electronic media.
Police Scotland's Fugitive Action Search Team has used its international links to execute 320 warrants in six continents for 298 people since April 2013.
Fugitives have been brought back to Scotland from Jamaica, Spain, Portugal and Thailand in relation to serious organised crime including a firearms offence, murder, stalking and historic sex abuse.