Vitamin B8 could prevent spina bifida, study finds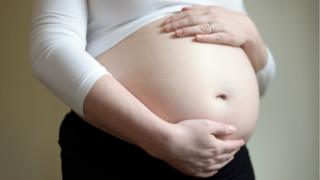 A study has suggested that an everyday vitamin could help prevent one of the UK's most common birth defects.
Researchers have found that conditions such as spina bifida could be prevented if pregnant women take vitamin B8.
They are currently advised to take folic acid to prevent neural tube defects, which affect one in every 1,000 pregnancies.
However some babies are still diagnosed with the condition even though their mother takes supplements.
BBC Scotland exclusively revealed the start of the study by the UCL Institute of Child Health in 2010.
It involved 99 women from all over the UK who'd already had at least one affected pregnancy.
Half of the women were put in a random trial in which they were either given folic acid or folic acid plus vitamin B8, or "inositol". The other half chose not to be in a random trial, but still took vitamin B8 during their pregnancy.
Of the 99 women, 57 became pregnant. None of the women who took B8 had a pregnancy affected by neural tube defects, but it occurred in three pregnancies amongst women who did not take the vitamin.
Last month the Scottish government said it was considering becoming the first part of the UK to fortify flour with folic acid, in an effort to tackle Scotland's high rate of neural tube defects.
The researchers now recommend a larger study to confirm whether inositol can prevent birth defects.
"Our findings certainly do not mean that pregnant women should stop taking folic acid and start taking inositol instead," said the lead researcher, Professor Andrew Copp,
"Rather, our research suggests that women who have had one pregnancy affected by an NTD may be best advised to take both folic acid and inositol when planning their next pregnancy. This should be done under supervision of their GP or obstetrician."
Prevent defects
If further trials suggest inositol can prevent spina bifida, it could be combined with folic acid as a simple and cheap supplement available to all women of childbearing age.
Professor Gudrun Moore, chief scientific advisor of the children's medical research charity Sparks said: "This study indicates that taking folic acid and inositol together prior to and during pregnancy may help prevent neural tube defects particularly in women with a previous history of these conditions.
"Sparks very much welcomes this research and the data, although from a small group, should now allow a larger trial to be carried out."
The research is published in the British Journal of Nutrition. It was funded by Sparks and the Medical Research Council, with additional support from the NIHR Biomedical Research Centre, Newlife Foundation for Disabled Children, and Great Ormond Street Hospital Children's Charity.