Scottish UKIP chairman faces sex call claims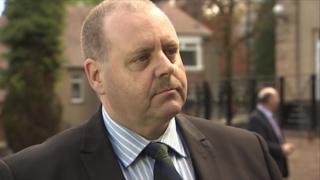 The chairman of the UK Independence Party in Scotland has stood down after appearing at Glasgow Sheriff court accused of making sexual phone calls.
UKIP has confirmed that Arthur Misty Thackeray, has temporarily stood down.
A spokesman said it would be "inappropriate" to comment during a live police investigation.
The Crown Office confirmed that Mr Thackeray, 55, appeared at Glasgow Sheriff Court on Monday, charged with six offences.
He was charged under section 7 (1) of the Sexual Offences (Scotland) Act 2009 Section 7(1) which relates to sexual verbal communication with someone who has not given consent.