Scottish government's climate change spending questioned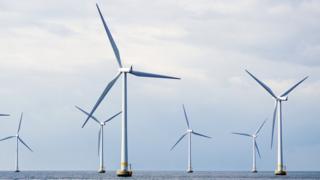 The Scottish government is facing questions over plans to cut spending on climate change by almost 10%.
Members of the Committee on Climate Change are in Edinburgh to gather evidence.
The visit comes ahead of the publication of their latest report.
The committee is an independent statutory body advising the UK government and devolved administrations, including the Scottish government.
Committee member Prof Jim Skea of Imperial College, London, told BBC Scotland the proposed cuts would be raised with officials.
He said: "That's something the Committee on Climate Change is going to be looking at carefully, because there's a ten per cent cut one year on another.
"A large part of the budget cut is coming on one line only - it's capital expenditure on energy infrastructure.
"We don't have enough information on what actually lies underneath that and that's one set of questions which we will be asking."
But Prof Skea also said the committee believed Scotland was still setting an example to other parts of the UK.
"We have been pretty complimentary about Scotland in terms of renewable energy especially and its development," he said.
"And also energy efficiency, especially in social housing, where there are some things the UK could learn from Scottish practice."
In an interview for the Good Morning Scotland programme, Prof Skea said there was room for improvement in other areas.
He said: "For example, the rate of planting forests, which is quite important in Scotland, could be a bit better.
"We'd factor in transport as well, that's another area where Scotland could perhaps up the game a little bit.
"And finally the issue of renewable heat, low carbon heat, is an area where no part of the UK is doing well and Scotland could do with picking up the pace along with other parts of the UK."
'Ambition and action'
Climate change minister Dr Aileen McLeod has described the agreement reached at the UN climate conference in Paris last month as "an important step" in encouraging other countries to match Scotland's "level of ambition and action".
Dr McLeod said: "Scottish emission levels also depend to a significant extent on policies at UK, EU and wider international level.
"The call to action from Paris must be backed up by meaningful action - not least in the crucial area of energy policy, where we need the UK to assist Scotland's drive to develop renewables and carbon capture and storage, not stymie it as they have done recently.
"Despite UK policy on energy and energy efficiency hampering investment and reducing the level of funding available, the Scottish government remains absolutely committed to continuing action to tackle climate change -- with a £13.3m overall increase in the 2016-17 draft budget across other areas."
But climate change campaigners have questioned the Scottish government's spending commitment.
Dr Sam Gardner, head of policy at WWF Scotland, said: "The Scottish government has repeatedly said that it intends to 'embed' climate change throughout this budget but so far we've seen no evidence of this.
"Indeed, rather than increasing investment, they have proposed funding cuts of nearly 10 per cent and we hope the Committee on Climate Change carefully scrutinises these proposed cuts at its meeting today.
"If the Scottish government is to secure the benefits of a low carbon economy and deliver on its commitment to make energy efficiency a National Infrastructure Priority, it must make changes to the budget before it is finalised in a few weeks' time."
Dr Gardner added: "Reversing the planned 13 per cent cut to warm homes funding would be a good start, helping to tackle fuel poverty, secure new jobs, reduce energy use and cut climate emissions."