Library displays rare Robert Burns Ae Fond Kiss letter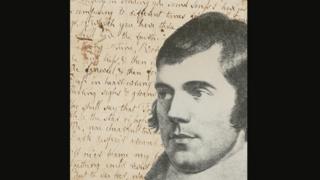 A rare handwritten letter from Robert Burns to a married woman goes on show in Edinburgh on Monday.
Visitors to the National Library of Scotland will be able to see the document containing his famous love song Ae Fond Kiss.
Burns wrote the letter in 1791, in farewell to Nancy McLehose, as she was departing for Jamaica to attempt a reconciliation with her husband.
The song expresses Burns's despair at the end of their relationship.
Burns met Nancy four years earlier in Edinburgh, when he was unmarried.
The couple exchanged a series of love letters using the pen-names Sylvander and Clarinda. It was a delicate situation because Nancy was a married woman and the relationship remained platonic.
Written by Burns in Dumfries, the letter told Nancy that he was sending her some recently composed songs.
He then presented a song that has become famous around the world with its familiar opening lines: Ae fond kiss, and then we sever; Ae fareweel, and then forever!
"Burns is widely celebrated on 25 January and we are pleased to be able to offer the opportunity to show this letter and song," said Kenneth Dunn from the National Library of Scotland.
The letter will be on display in the library's boardroom at George IV Bridge, Edinburgh, from 12:30 until 14:00 on Monday. Entry is free.