Assets confiscated from Perth drug dealer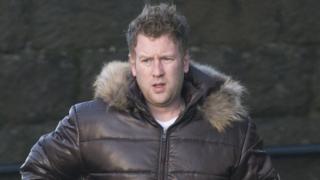 A drug dealer has been ordered to pay back almost £130,000 of profits he made from selling cannabis and cocaine.
Gavin Blair, 38, had been using drug dealing money to fund a lavish lifestyle, a court heard.
It is estimated he made almost £430,000 from the illicit trade, but the Crown said his entire estate was now worth £129,908.70.
Blair, from Errol near Perth, was jailed in 2014 for drug dealing, but has completed his sentence.
Fiscal depute Carol Whyte told Perth Sheriff Court: "A settlement has been agreed. There is a joint minute for sums currently being held by the Police Service of Scotland."
Sheriff Lindsay Foulis said: "So it is agreed that I should make a confiscation order in the sum of £129,908.70? That is what I will do."
Ms Whyte then asked the court to record that Blair's "proceeds from his general criminal conduct amount to £428,853.29".
Two homes
A Proceeds of Crime hearing into Blair had been delayed previously due to the late discovery of a secret bank account by investigators.
Blair was claiming benefits, while spending thousands on a massive hot-tub for the garden of his country estate which he spent tens of thousands of pounds refurbishing.
The Crown alleged he spent more than £300,000 on two houses within five months and bought at least four cars during 2013 alone.
It was further alleged that Blair took nearly £90,000 profits from bets placed with various bookmakers.
The Crown has revealed that Blair was paid £1,537.90 in benefits while his partner was granted cold weather payments of £175.
He pled guilty to being involved in the supply of drugs at a hearing in April 2014 after £17,000 of drugs were found at his farmhouse near Errol. He was jailed for three years.
His co-accused Peter Ritchie, 49, from Perth, admitted producing cannabis at West Lodge on Moncrieffe Estate, Bridge of Earn, and was jailed for 18 months.
Cheryl Doogan, 33, from Perth, also faced charges but had those dropped by the procurator fiscal as part of a plea deal.
Lindsey Miller, procurator fiscal for Organised Crime and Counter-Terrorism, said: "Gavin Blair faced the seizure of £17,000 of drugs, years behind bars, and a significant disruption to his criminal business.
"However, the case against him did not stop there. His conviction opened him up to a full forensic investigation of his accounts going back to 2007, and today we have secured an order for the entirety of his estate.
"Should further assets be uncovered, we will seek to raise the order until he has repaid all of his illegal earnings."