Boost for St Andrews in international university list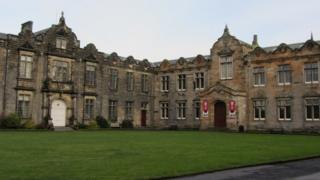 St Andrews has topped a new list of international rankings for Scottish universities.
The Fife university came 34th in the Times Higher Education's World University Rankings of the top 200 most outward-looking institutions.
The list of 800 universities examined the diversity of the staff and the students.
The other measure was how often academics collaborated with other international institutions.
Qatar University topped the list, which is based on the results of the "international outlook" indicator for 2015-2016.
The UK as a country did best overall on this measure, and eight Scottish universities made it into the top 200.
'International reach'
The University of Aberdeen came in at 37, while Heriot-Watt was 46th, and Edinburgh 52nd. Glasgow was ranked 75th and Strathclyde 169th.
Welcoming the news, acting principal of St Andrews, Prof Garry Taylor, said: "We have always been larger in outlook than in size.
"Above all it is a testament to the talent of our staff and students who come from all over Scotland as well as the world beyond our shores - it is their multicultural spirit that attracts intelligence, collaboration and the exchange of ideas."
The University of Dundee was placed at 123.
Dundee vice-principal Wendy Alexander said: "This ranking is fantastic news and reflects the nature of Dundee as a global institution."
She added: "We teach nurses in Eritrea and Kenya, we train orthodontists in Egypt, we partner a research institute to tackle diabetes in Kuwait, we attract life sciences doctoral students from Brazil, we work with 17 leading Chinese universities, mainly in science and engineering, in addition to the thousands of students who come here to Dundee every year."
The University of Stirling was at 129. Its principal, Prof Gerry McCormac, said: "Stirling has always been a university with an international reach and diverse community.
"Today we have 120 nationalities on campus and foster partnerships in over 30 countries worldwide."