Storms 'have cost Scotland's economy up to £700m'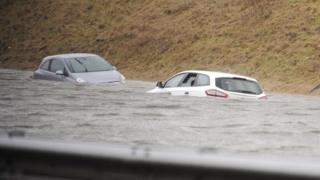 The recent storms that have battered Scotland have cost the economy up to £700m, according to a report by PwC.
The business services provider also estimated insured losses at between £175m and £350m.
The figures compared with an estimated total UK economic loss of up to £2.8bn and insured UK losses of between £1bn and £1.4bn.
PwC said storms Frank and Eva had hit Scotland particularly hard, with flooding in many parts of the country.
However, it added it remained difficult to ascertain the full financial impact of the storms and the rainfall.
According to the Met Office, December was the wettest month, both in Scotland and across the UK, since records began in 1910.
PwC estimated that small businesses which were not covered for flood damage would have to pay between £35,000 and £100,000 on average to repair their properties.
This is on top of the cost of replacing damaged stock or items for sale.
'Little relief'
PwC also warned that businesses and households still faced difficulties ahead.
PwC private business leader Martin Cowie said: "With more rain forecast in January, it appears there is little relief in sight for many Scottish businesses and households, particularly those in the North of Scotland, Perthshire and Dumfries and Galloway where the impact from Storms Desmond, Eva and Frank have been keenly felt.
"While some Scottish businesses could find themselves impacted by ongoing road and rail closures in the short term, for example, what we've seen from previous extreme weather events is that much of the productivity lost is actually made up fairly soon after.
"For some businesses, however, the losses they experience will be permanent - if someone has cancelled hotel or bed and breakfast accommodation, a restaurant booking, or not gone to the theatre or the cinema, then that money will be lost."