Film starring George Clooney to premiere in Glasgow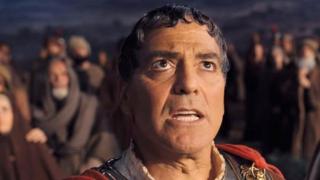 A film starring George Clooney will have its UK premiere in Glasgow.
The actor is one of the stars of Hail, Caesar!, from the Coen Brothers. Scarlett Johansson and Tilda Swinton also star.
The premiere will take place on 17 February at the Glasgow Film Theatre (GFT) - fresh from its world premiere at the Berlin Film Festival - as part of the Glasgow Film Festival.
Tickets will go on sale to the public on Monday 18 January.
The film also features other well-known faces such as Ralph Fiennes, Jonah Hill and Channing Tatum.
The comedy is set during the latter years of Hollywood's Golden Age, and follows a single day in the life of a studio fixer who is presented with plenty of problems to fix.
A spokeswoman for Glasgow Film Festival said guests attending are still to be confirmed.
You can watch the trailer for Hail, Caesar! here.
If Clooney attended the UK premiere, it would be his second visit to Scotland recently.
In November, he visited Edinburgh, where he visited a sandwich shop which helps homeless people and addressed the Scottish Business Awards.